The Houston Astros, 2022 World Series Champions
On Saturday night, the Houston Astros took home the 2022 World Series trophy against the Philadelphia Phillies. The Astros would win the series in game 6 with a final score of 4-1, and in doing so took it completely in a count of 4 games to 2.
For Houston, pitcher Framber Valdez was near flawless during this game until, in the sixth inning, he gave up a solo homerun to Kyle Schwarber that gave the Phillis a 1-0 lead. That deficit ended up being short lived because in the home half of the sixth, Astros power hitter Yordan Alvarez hit a monster homerun that was 450 feet to dead center field and have the Astros a 3-1 lead. The Astros bullpen would have to come in for the rest of the game to shut the door, and they ended up doing just that.
This marks the second World Series title for the Astros franchise. The last one came in 2017, the year the Astros got caught for cheating.
Who Won the MVP of the World Series?
The Houston Astros rookie shortstop Jeremy Pena took home the hardware for World Series MVP. The rookie Pena this season had to step up and fill big shoes since former Astros superstar Carlos Correa moved on to another team, and to say Pena did that, would be an understatement.
Pena responded by winning a gold glove, ALCS MVP, and the World Series MVP.
In 25 at bats, Pena racked up 10 hits with 1 being a homerun and with 3 RBIs. He finished with an average of .400, an on base percentage (OBP) of .423, and a slugging of .600.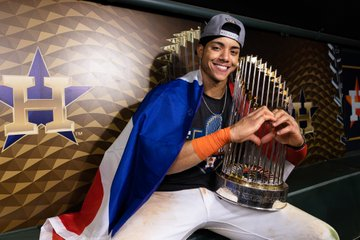 ---
Sources used:
https://www.cbssports.com/mlb/news/astros-win-2022-world-series-houston-clinches-second-title-as-yordan-alvarezs-game-6-homer-ousts-phillies/live/
https://www.nytimes.com/2022/11/06/sports/baseball/jeremy-pena-world-series-mvp-astros.html