2023 and the UFC Titles Before UFC 296
2023 has been an exciting year for combat sports. Controversies, historic fights, losses, and returns, 2023 has seen it all. UFC, the freshly 30 year old company, has seen a full year of insane highs and lows. Quickly before the year wraps up we should reflect on some of the most insane title fights of the year.
Strawweight Belt (115 lbs): Women's Strawweight is a weight class that might only be seen as a "prelim event" and not taken seriously but its Champ should be. Weili Zhang is a Chinese born fighter with a professional record of 24-3. In 2021 Zhang tried for the belt twice and came out with two losses instead. After climbing back from this and claiming the belt in 2022, Zhang defended the strawweight belt against Amanda Lemos as the Co-Main to Sterling/O'Malley.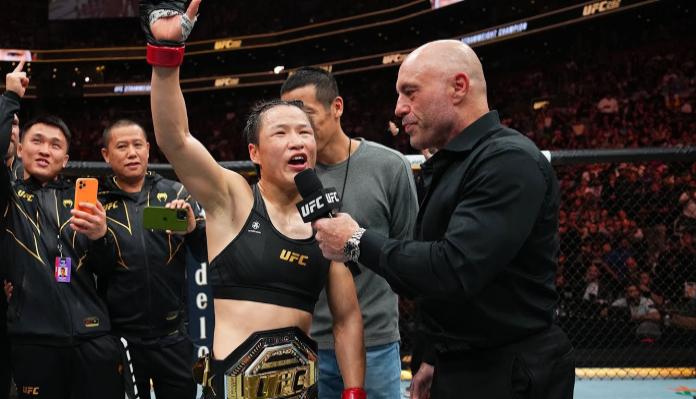 Flyweight Belt (125 lbs): Women's Flyweight might be the most active women's weight class currently and for Women's Flyweight, rising star hailing from Mexico, Alexa Grasso claims the belt and defends it this year with two title fights in 2023. Grasso dethrones the previous champ, Valentina Shevchenko. With a win on UFC 285 and a majority draw during Noche UFC, Grasso claims her belt and has now even gotten her own signature belt.
For Men's Flywight Alexandre Pantoja, a Brazillian fighter with the professional record of 26-5 takes a split decision victory from Brandon Moreno in a 5 round, 25 minute fight. Pantoja will defend his belt from different Brandon, Brandon Royval in December.
Bantamweight Belt (135 lbs): The state of Women's Bantamweight is interesting as it sees Champ, Amanda Nunes, defend her belt and frankly see other women go against Nunes exclusively. In 2023, Nunes defended her belt against Irene Aldana and after taking home a unanimous decision victory home, Nunes announces her possible retirement. If Nunes retires, then she will vacate the belt and the new champion will need to take the belt in January. The vacated belt will go to the winner of Raquel Pennington and Mayra Bueno Silva during UFC 297.
Men's Bantamweight during 2023 saw one of the bigger upsets of year with the crowning of "Suga" Sean O'Malley as Bantamweight champion of the world. The previous belt holder, Aljamain Sterling held and defended the belt earlier in the year against Henry Cejudo and lost it to the rainbow topped newcomer. Sean is set to defend the title against Marlon "Chito" Vera in 2024.
Featherweight Belt (145 lbs): The Women's Featherweight division has struggled over the years and as hard to believe as it may be, Amanda Nunes has been the reigning women's featherweight champion since 2018. Nunes defeated Cris Cyborg in 2018 and has held the belt since. If Nunes retires the featherweight belt will vacate alongside the bantamweight belt.
Men's Featherweight champion Alexander "The Great" Volkanovski has had an active year with two title attempts and one defense against Yair Rodriguez during UFC 290. The featherweight champ attempted twice to become a belt holder in two divisions by trying for the lightweight belt.
Lightweight Belt (155 lbs): After claiming the belt from Charles Olivera (number one contender in the lightweight division and former belt holder), Islam Makhachev defended his belt twice in 2023. Makhachev has been mentored and coached by former lightweight champion, Khabib Nurmagomedov. Battling with Volkanovski for the belt at UFC 284, Makhachev and Oliveira were set to battle for the belt once more at UFC 294, but do to an upper eye injury Oliveira was taken out and on two weeks notice Volkanovski came back for the belt.
Welterweight Belt (170 lbs): Leon Edwards took the belt in an incredible performance at UFC 278 over Kamaru Usman in 2022 and defended it in the rematch in 2023. Edwards is set to fight in December with number one welterweight contender, Colby Covington.
Middleweight Belt (185 lbs): With one of the largest upsets of the year, underdog Sean Strickland snakes out a unanimous decision win over favorite Israel Adesanya. Israel went into 2023 after regaining the belt in 2022 with a rematch against Alex Pereira who took the middleweight belt in 2022, after defending it for several years leading up to Adesanya/Pereira 1. Strickland came in as a replacement for number one contender, Dricus Du Plessis, who had to pull out of the title fight do to a foot injury. Adesanya has now taken a leave until what he says will be 2027. For Strickland he will be fighting against Du Plessis in January as his first title defense.
Light Heavyweight Belt (205 lbs): UFC's Light Heavyweight class frankly has been a mess since Jon Jones left the class in 2020 and the belt vacated. The belt has not had a "permanent" or at least semi-permanent home since Jones, and injuries have plagued champions for some time.
The most recent title fight on this list, Pereira/Procházka. Ending with an incredible left hook from Pereira to finish Procházka in the second round, Pereira becomes light heavyweight champ after one fight in the weight class. Procházka, the former champ, defeated Glover Teixeira for the belt in 2022. Procházka soon after had to take leave after an unexpected shoulder injury. Pereira has become the 9th "double champ" in UFC history and has called out Israel Adesanya who he previously beat for the middleweight belt in 2022. Jamall Hill, most recent champ, had to vacate the title after a severe injury and has yet to return. Hill and Dana White, UFC President, both saw this as Pereira's next title defense but it seems Pereira thinks differently.
Heavyweight Belt: After leaving the light heavyweight class in 2020, Jones took a 3 year and came back a heavyweight. Jones held the light heavyweight belt since 2011 and has been undefeated since 2010. After moving up a weight class Jones claimed the vacant Heavyweight belt against Ciryl Gane. Jones was set to headline UFC 295 but do to a chest injury he was taken out and replaced by Pereira/Procházka. The severity of his injury will leave Jones out for 8 months and Dana White has confirmed that Jones/Miocic the original UFC 295 headliner is still on.
However… during UFC 295 the interim champion was decided to come out of the fight between Tom Aspinall and Sergei Pavlovich. With an incredible first round knockout against the 16-1 Russian fighter, Aspinall claims interim gold but was not promised a fight against the undisputed champion.
In UFC history all interim champions have always battled against the undisputed champion when the undisputed champion returns. What Dana White proposes is unheard of; to have an interim champion and an undisputed champion at the same time. With the conditions of Jones' injury it could be till summer/fall of 2024 before a Jones/Miocic fight and would leave Aspinall waiting for over a year for his chance at the undisputed belt. "UFC CEO Dana White said prior to and reiterated after UFC 295 that the plan is still to re-book Jones vs. Miocic when Jones is ready. Aspinall, though, made a case that he deserves to fight Jones…" (MMAJunkie.com). With Aspinall's own request and the nature behind the fight seeing as Aspinall was called in on very short notice and seemingly his performance will only improve with a full fight camp, which he would have if he faced Jones.
2023 was an epic year for combat sports and the UFC and the stakes are raised for 2024. Will 2024 meet the high bar that was raised? We'll have to see in a few short weeks.