Ice Cream Of The Week (Oct.28th – Nov.1st)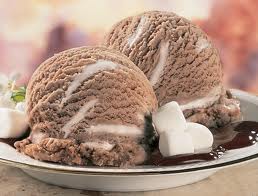 Chocolate Marshmallow is the ice-cream of the week!
THIS IS A TRIBUTE TO ALL THE CHOCOLATE MARSHMALLOW LOVERS!!!!!
Chocolate Marshmallow is a smooth milk chocolate ice-cream, swirled with fluffy marshmallow ribbons. It is not too sweet with the right blend of creamy textures; this dessert treat is an exciting scoop on top of any cake. Try it surrounded by your favorite cookies or as a perfect midnight snack.
S'mores are made with chocolate, marshmallows, and graham crackers. It is an awesome snack to have with your Chocolate Marshmallow.
And if you need a drink just have some Hot Chocolate!