Great Foods and Drinks for the Holidays: Halloween
 THE BREW-HA-HA PUNCH
HOT SPICED CIDER
Ingredients: 2 quarts apple cider
1/2 cup molasses
4 lemon slices, cut in half
12 whole cloves
2 cinnamon sticks
1/4 cup lemon juice
Directions: Bring cider and next 4 ingredients to a boil in a large saucepan over medium-high heat, stirring occasionally; reduce heat, and simmer 15 minutes. Remove cinnamon sticks and cloves with a slotted spoon; stir in lemon juice.
ONION-BACON DIP
1 large leek
6 bacon slices
1 large sweet onion minced
1 8-ounce package of cream cheese softened
1 cup sour cream
1/2 teaspoon salt
1 2-pound acorn squash
assorted multigrain and vegetable chips
chopped fresh chives as garnish
Directions: Remove and discard root ends and dark green top of leek. Cut in half lengthwise, and rinse thoroughly under cold running water to remove grit and sand; thinly slice leek.
Cook bacon in a large skillet over medium-high heat 6 to 8 minutes or until crisp, remove bacon, and drain on paper towels, reserving 1 Tbsp. drippings in skillet. Crumble bacon.
Sauté onion and leek in hot drippings 15 minutes or until tender and golden.
Stir together onion mixture, bacon, cream cheese, sour cream, and salt. Cover and chill 1 hour.
Cut about 1/2 to 1 inch from top of squash; remove and discard seeds.
Heat a small skillet over medium-high heat. Place squash, cut side down, in skillet, and cook 3 to 5 minutes or until cut side is golden brown and caramelized. Serve dip in squash with assorted chips. Garnish, if desired.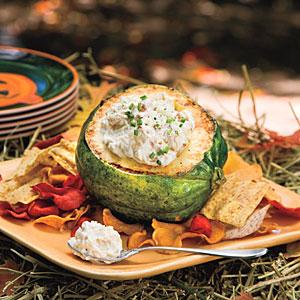 TRASH MIX
1 16-ounce package of candy corn
1 15-ounce package pretzel nibblers
1 12-ounce package of caramel popcorn and peanuts
1 15-ounce package banana chips
1 15-ounce package of candy-coated chocolate pieces
1 15-ounce package dried mangos
1 15-ounce package dried pineapple
1 10-ounce package of toffee pretzels
1 6-ounce package sweetened dried cranberries
1 6-ounce package worm-shaped chewy candy
Directions: stir contents together, store
(All information found at southernliving.com)