DIY fun and affordable spring & drinks!:)
Spring is almost right around the corner, this 5 quick recipes are the most easy. inexpensive and delicious drinks to make for fun or to cool off after working out ,on a hot summer day, or to stay healthy.:)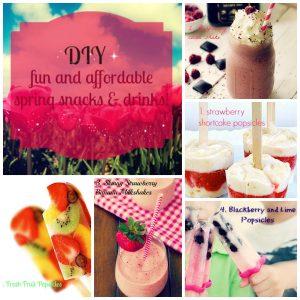 1.) strawberry shortcake popsicles 
{this
recipe
makes 12
Popsicles
}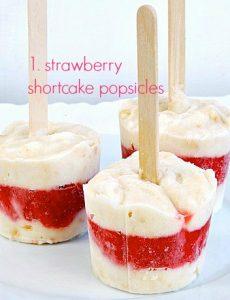 Ingredients:
2 cups fresh strawberries, washed and hulled
1/2 cup crushed Nilla wafers
2 cups plain whole milk yogurt
1/3 cup honey (more if desired)
12 6 oz. Dixie cups
Wooden Popsicles sticks
Steps:
Get a small bowl, and began to crush nilla wafers inside the bowl
now combine yogurt (any kind you want), and honey. set out 12  6oz cups aside and began to fill each with 2 tsps of yogurt,honey and nilla wafer crumbs.
after finished filling all 12 cups, set the cups in the freezer for 30min.
meanwhile, in a blender or food processor, puree the strawberries.divide the strawberry mixture into the 12 cups that were filled with the yogurt mixture, set back in the freezer for 30 min again.
after the 30min have past, use whats left of the strawberry blended and evenly add whats left to the 12 cups of the yogurt mixture, and add a popsicle stick to each cups. now put the yogurt cups back into the freezer for a couple of hours(time depends on how hard you want the popsicle to get cold and hard.)                                                                                                                                                                                                                                                   now you can enjoy this easy DIY strawberry shortcake delicious popsicle made of nutritious fruit!!:) (you can get the popsicle out the cup by cutting it very carefully!)
2). Raspberry cocoa shake 
Ingredients:
1-1/2 cups of frozen raspberries
1 cup of vanilla ice cream
1 cup of chocolate ice cream
1/4 cup of milk
1/3 cup patron XO cafe dark cocoa
Steps:
place both vanilla and chocolate ice cream in the blender along with the raspberries,milk            and patron in the blender until the mixture is smooth
pour into any cups or chilled glasses
garnish the top of the shake with whipped cream, raspberries and shaved chocolate (any chocolate you want),                                                                                                                                                                                                        ow Now you can enjoy this simple and nutritious shake anytime you want!
Inspired  Articles by Claire Gallam
 3.) Skinny Strawberry Banana Milkshakes
This  "Smooth, creamy thick strawberry milkshakes made from only 3 healthy ingredients."- sally  can make 2 milkshakes and it only takes 5min to make. 
ingredients:
3 Large bananas, peeled, cut into chunks, & frozen
1/4 cup of vanilla almond milk( or regular milk)
8 medium strawberries sliced in half
Steps:
began by blending the frozen bananas chunks and milk together until its thick, creamy and smooth – blend for about 4min.
after blending add the strawberries and continue to blend until it looks smooth.
This delicious thick creamy milkshake would be the perfect drink for breakfast on a sunny day or to make with a friend to cool off on a hot day, and it ONLY TAKE 5MIN TO MAKE!!:)
Inspired by Sallys Baking Addiction – A Sprinkle of Fun and Adventure.
 4). Blackberry and Lime Popsicles (This recipe makes 6 popsicles)
Ingredients
1/2 cup plus 2 Tablespoons simple syrup (1/2 cup sugar and 1/4 cup water boiled and cooled)
1 cup fresh lime juice, strained
1 cup water
pinch kosher salt
1/2 pint blackberries
Instructions
Combine the simple syrup, lime juice, water, and salt.
Drop 4 blackberries into Popsicle molds. Pour the lime mixture to the top.
Freeze for at least 4 hours.
this simple, fun and nutritious popsicles can be also be great for those hot spring picnic or for a snack.
Inspired by Baked Bree   http://bakedbree.com/wp-content/uploads/2014/07/Logo.png
5).  Fresh Fruit Popsicles (this recipe can make 8 popsicles )
Ingredients
1 peach, cut into 1/2-inch slices (1/2 cup)
2 kiwis, peeled and sliced into 1/4-inch rounds
3/4 cup strawberries, finely chopped
1/2 cup blueberries
1/2 cup raspberries
1 1/2 to 2 cups of fruit punch or 100 percent white-grape juice
Steps:
Combine fruit in a mixing bowl and arrange the mixture into eight 3-ounce popsicle molds.
Pour enough juice into each mold to just cover fruit.
Insert popsicle sticks and freeze until solid (about six hours).
this cool ,easy and healthy popsicles are so yummy to eat and fun to make for those hot spring day.
Inspired by the kitchn channel and Artsy Fartsy  mama   http://www.artsyfartsymama.com/2013/05/36-homemade-popsicle-recipes.html