Must See Upcoming 2021 Movies
After a pandemic setback, are you ready to grab your popcorn and go see a movie? Theatres are finally ready to welcome back business just in time for Oscar season. This is a list of upcoming 2021 movies you must see on the big screen.
This Tony Award winning musical is coming to a theatre near you. Evan Hansen is an anxious isolated high school student, trying to understand where he belongs in the cruel internet age, and soon finds himself on a journey of self-discovery when a letter he wrote lands in the hands of a grieving couple, coping with the loss of their son. Starring Ben Platt. Dear Evan Hansen coming to theatres Friday, September 24th.
New Installment in the ever expanding world of James Bond. 007 is back, and recruited to rescue a kidnapped scientist, while finding himself on the trail of a mysterious new villain, armed with dangerous technology. Starring Daniel Craig, Rami Malik. No Time to Die coming to theatres Friday, October 8th.
Long awaited sequel to the hit 2018 Movie Venom; This next installment sees Eddie Brock and his better half, Venom have to protect the streets of San Francisco and face off with new foe, Carnage. Starring Tom Hardy and Woody Harrelson. Venom: Let There be Carnage coming to theatres Friday, October 15th.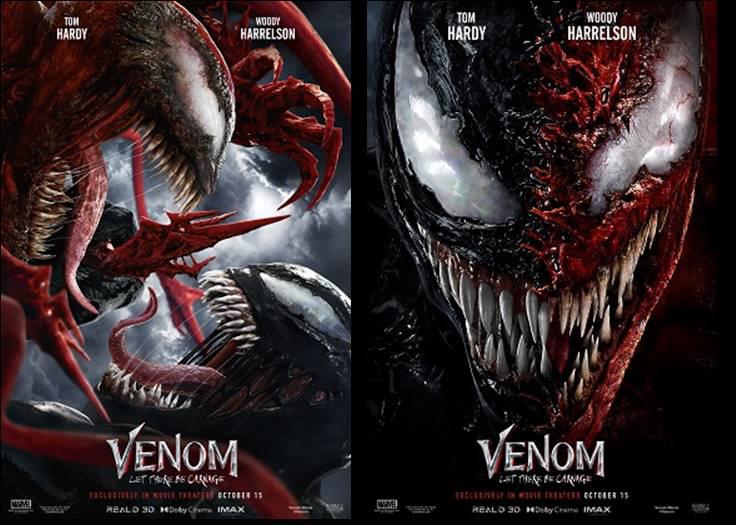 Based on the critically acclaimed novel of the same name. Paul Atreides, a brilliant and gifted young man, must travel to the most dangerous planet in the universe to ensure his family and people's future. Starring Timothee Chalamet, Zendaya, Oscar Isaac, and Jason Mamoa. Dune coming to theatres Wednesday, October 22nd.
From the frightening mind of Edgar Wright, Last Night in Soho sees an aspiring fashion designer who mysteriously has the ability to enter the 1960's, however the fun ends and something far more dark unravels. Starring Anya Taylor-Joy. Last Night in Soho coming to theatres Friday, October 29th.
From Oscar winning visual genius, Chloe zhao; The Eternals are an immortal race of beings sworn to protect the Earth, from the monstrous deviants. Starring, Angelina Jolie, Salma Hayek, and Kumail Nanjiani. Eternals coming to theatres Friday, November 5th.
Who you gonna call? Ghostbusters! A family after moving to a new town, soon discover their unknown relationship to the original ghostbusters, and their grandfather's secret legacy. Starring, Finn Wolfhard and Paul Rudd. Ghostbusters: Afterlife coming to theatres Thursday, November 11th.
Based on a true romance, Maurizio Gucci heir to a fashion empire and his wife Patrizia Reggiani divorce, leading to a murder in the house of Gucci. Starring, Adam Driver, Lady Gaga, and Jared Leto. House of Gucci coming to theatres Wednesday, November 24th.
Possibly, Netflix's largest blockbuster; Don't Look Up is about two low-level astronomers trying to warn the people of earth of a incoming comet that will destroy earth. Starring, Leonardo DiCaprio, Jennifer Lawrence, Jonah Hill, and Timothee Chalamet. Don't Look Up coming to theatres Friday, December 10th, and coming to Netflix Friday, December 24th.
Another Disney blockbuster to round-off the year, and another installment in this Spider-Man universe. Peter Parker after being exposed as the Spider-Man, seeks the help of Dr. Strange, leading to a multiversal meltdown. Starring, Tom Holland, Benedict Cumberbatch, Zendaya, and Alfred Molina. Spider-Man: No way Home coming to theatres Friday, December 17th.
After 5 years, Illumination brings a sequel to the animated hit, Sing. Sing 2 once again sees Buster Moon and his star studded cast of singing animals, preforming, singing, dancing again in a dazzling extravaganza, while Buster also tries to recruit the biggest and most reclusive rock star. Starring, Bono, Tori Kelly, Halsey, and Eric Andre. Sing 2 coming to theatres Friday, December 22nd.
It's time to re-enter the Matrix. This newest installment in the legendary genre-defining science-fiction movie trilogy, sees the newest generation of the Matrix, Neo is back after seemingly sacrificing himself in the last installment, his old life is also bleeding into the new, as he reunites with Trinity and Morpheus. Starring, Keanu Reeves, Priyanka Chopra, Carrie-Anne Moss, and Yahya Abdul-Mateen II. The Matrix Resurrections coming to theatres Friday, December 22nd.