College Football Coaches Lincoln Riley & Brian Kelly switch teams
Lincoln Riley
On Saturday, November 27th, after OU's tough fought loss to Oklahoma State, OU head coach Lincoln Riley in the postgame interview would be asked if he was leaving Oklahoma for LSU. Riley would reply by saying "Let me stop you right there. i'm not going to be the next coach at LSU. Next question". However, he didn't say anything about leaving OU for anyone else. Especially with bowl season on the horizon, no one would expect Riley to be leaving, until on Sunday morning Riley would announce that he was leaving OU to be the next head-coach at USC.
This is what Riley had to say: "Leaving OU was probably the most difficult decision of my life. OU is one of the best college football programs in the country, and it has been forever… This was a personal decision solely based on my willingness to go take on a new challenge, and I felt like it was the right opportunity for me and my family to do that."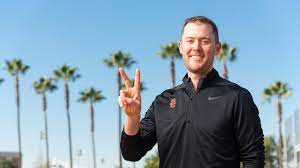 Brian Kelly
On Tuesday, November 30th, Louisiana State University would announce that former Norte Dame head coach Brian Kelly, has been hired as the next LSU head coach. Kelly would be introduced to the team on Wednesday.
Brian Kelly, who had been Norte Dame's head coach since the 2010 season, will replace the current LSU head coach Ed Orgeron.
Brian Kelly would then decide to hold a meeting with his Norte Dame players; the meeting would last 4 minutes and Kelly would then be on his way to LSU for his introduction as the new head coach.