Top 10 Netflix Watches in the US: January
#1 Cobra Kai
Thirty-four years after the events of the 1984 All Valley Karate Tournament, a down-and-out Johnny Lawrence seeks redemption by reopening the infamous Cobra Kai dojo, reigniting his rivalry with a now-successful Daniel LaRusso.
#2 Stay Close
The lives of a photojournalist, a soccer mom, and a homicide detective are disturbed by a terrible past event.
#3 Don't Look Up
Two low-level astronomers must go on a giant media tour to warn man-kind of an approaching comet that will destroy Earth.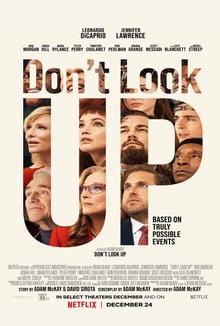 #4 The Witcher
The witcher Geralt, a mutated monster hunter, struggles to find his place in the world in which people often prove more wicked than beasts.
#5 Hype House
From humble beginnings to overnight fame, these are the stories of the most popular personalities on social media as they come into their own, fall in love and tackle new chapters in their lives.
#6 Just Go With It
His heart recently broken, plastic surgeon Danny Maccabee pretends to be married so he can enjoy future dates with no strings attached. His web of lies works, but when he meets Palmer, the gal of his dream, she resists involvement. Instead of coming clean, Danny enlists Katherine, his assistant, to pose as his soon-to-be-ex-wife. Instead of solving Danny's problems, the lies created more trouble.
#7 The Longest Yard
Disgraced pro football quarterback Paul Crewe lands in jail, where manipulative Warden Hazen recruits him to advise the institution's team. This turns into a lead role quarterbacking a crew of inmates in a game against a team of prison guards. Aided by incarcerated ex-NFL coach Nate Scarborough, Crewe and his team must overcome not only the bloodthirstiness of the opposition but also the corrupt officials trying to fix the game against them.
#8 Emily In Paris
Chicago marketing executive Emily Cooper is hired to provide an American perspective at a marketing firm in Paris.
#9 Queer Eye
More than a decade after the original series went off the air, Netflix reboots the Queer Eye franchise with a new Fab Five and a new setting, trading in the concrete jungle of New York City for communities in and around Atlanta. The style experts forge relationships with men and women who often have different beliefs from them. Leading to moments of social commentary interspersed with style advice. Advising people in need of lifestyle makeover are food and wine specialist Antoni Porowski, interior designer Bobby Berk, grooming consultant Jonathan Van Ness, fashion designer Tan France and culture expert Karamo Brown.
#10 The Town
Doug MacRay leads a band of ruthless bank robbers and has no real attachments except for James, who despite his dangerous temper is like a brother. Everything changes for Doug when James briefly takes a hostage, bank employee Claire Keesey. Learning that she lives in the gang's neighborhood, Doug seeks her out to discover what she knows, and he falls in love. As the romance deepens, he wants out of his criminal life, but that could threaten Claire.