Alpha Male Podcast Backlash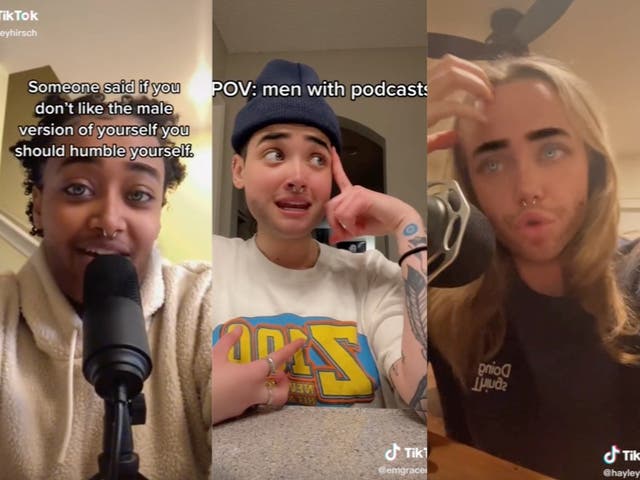 According to the Urban Dictionary in human beings, an alpha male is more of a personality type that usually describes somebody who is arrogant, obnoxious, insensitive, selfish, and competitive while also being insecure and often resorting to physical violence. Alpha male is a term that people use to protect their egos and to explain and validate their treatment of other people.
TikTok
Some popular male podcast hosts, who call themselves "alpha males", often use their shows to encourage treating women as objects. Now those same hosts are being parodied by TikTokers in a new viral trend. Elsa Lakew was one of the first in the trend to post a video using the "Bearded Cutie" filter. In her video, she says "Someone said if you don't like the male version of yourself, you should humble yourself," "But, if I looked like this I would start a podcast… you know what women don't be doing?" This video has over 14 million views and is stitched/reacted by others who add to this trend. Lakew's decision to make the video stemmed from her frustration with countless podcasts that push the so-called "alpha male" lifestyle, which encourages men to establish 'social dominance' through aggression based on wolfpack hierarchies (btw it's a debunked theory). Some of the common themes these alpha males or high-value men include in their podcasts are aggressively pursuing women regardless of consent, treating relationships as transactional, basing women's value on how conventionally attractive they are- only to discard them once they age or gain weight and finally referring to women as "females".
Many creators say reasoning with men who hold such values is largely unsuccessful, so creators turned to mock them instead. TikTok creator Drew Afualo is a great example of this, she built an audience of 5.6 million followers by responding to videos of misogynistic rants by brutally dragging the poster's hairlines, outfits, and looks, essentially fighting fire with fire.
Actual Podcasts
Fit & Fresh podcast is one of the podcasts that radiate 'alpha male' energy and call themselves and other guys "high-value men". The hosts of the podcast are Walter Weeks and Myron Gains; the duo claims that their show aims to help men navigate the current dating world by giving them financial, fitness, and romantic advice. However, while attempting to do so they state comments that degrade women and body shame them.
Instagram model Brittney Renner was invited to chat with the Fresh and Fit hosts on DJ Akademiks 'Off the Record podcast' where she called out the hosts for their comments on women. The conversation started after the duo asked Renner to "tell them a little bit about herself" which she then states "I think you know more about me than I do myself," then saying "you said that you warn guys about girls like me, so tell me about girls like me. Humor me." Gains answered, "you're not special, you're like other girls." "So what makes you special, then?" she queried. "What do you gain from telling girls they're not special?" Many tweets were congratulating Renner and taking her side in the argument, even Spotify tweeted stating "when @brittanyrennerr said "humor me" she DID NOT stutter".