NFL Prime-Time Games 2022
This year the Prime-time football is going to look a little different heading into 2022.
The NFL Network will no longer be one of the networks hosting one of the three weekly prime-time games. Now Amazon Prime will enter the mix and will broadcast the "Thursday Night Football".
Now lets take a look at every single prime-time matchup for the 2022 schedule.
'Thursday Night Football' schedule 2022
start time: 7:20 p.m. CT
Live stream: Amazon Prime
| | | |
| --- | --- | --- |
| Week | Date | Matchup |
| 1 | Sept. 8 | Buffalo Bills vs. Los Angeles Rams |
| 2 | Sept.15 | Los Angeles Chargers vs. Kansas City Chiefs |
| 3 | Sept. 22 | Pittsburgh Steelers vs. Cleveland Browns |
| 4 | Sept. 29 | Miami Dolphins vs. Cincinnati Bengals |
| 5 | Oct. 6 | Indianapolis Colts vs. Denver Broncos |
| 6 | Oct. 13 | Washington Commanders vs. Chicago Bears |
| 7 | Oct. 20 | New Orleans Saints vs. Arizona Cardinals |
| 8 | Oct. 27 | Baltimore Ravens vs. Tampa Bay Buccaneers |
| 9 | Nov. 3 | Philadelphia Eagles vs. Houston Texans |
| 10 | Nov. 10 | Atlanta Falcons vs. Carolina Panthers |
| 11 | Nov. 17 | Tennessee Titans vs. Green Bay Packers |
| 12 | Nov. 24 | Buffalo Bills vs. New England Patriots |
| 13 | Dec. 1 | Las Vegas Raiders vs. Los Angeles Rams |
| 14 | Dec. 8 | San Francisco 49ers vs. Seattle Seahawks |
| 15 | Dec. 15 | Jacksonville Jaguars vs. New York Jets |
| 16 | Dec. 22 | Dallas Cowboys vs. Tennessee Titans |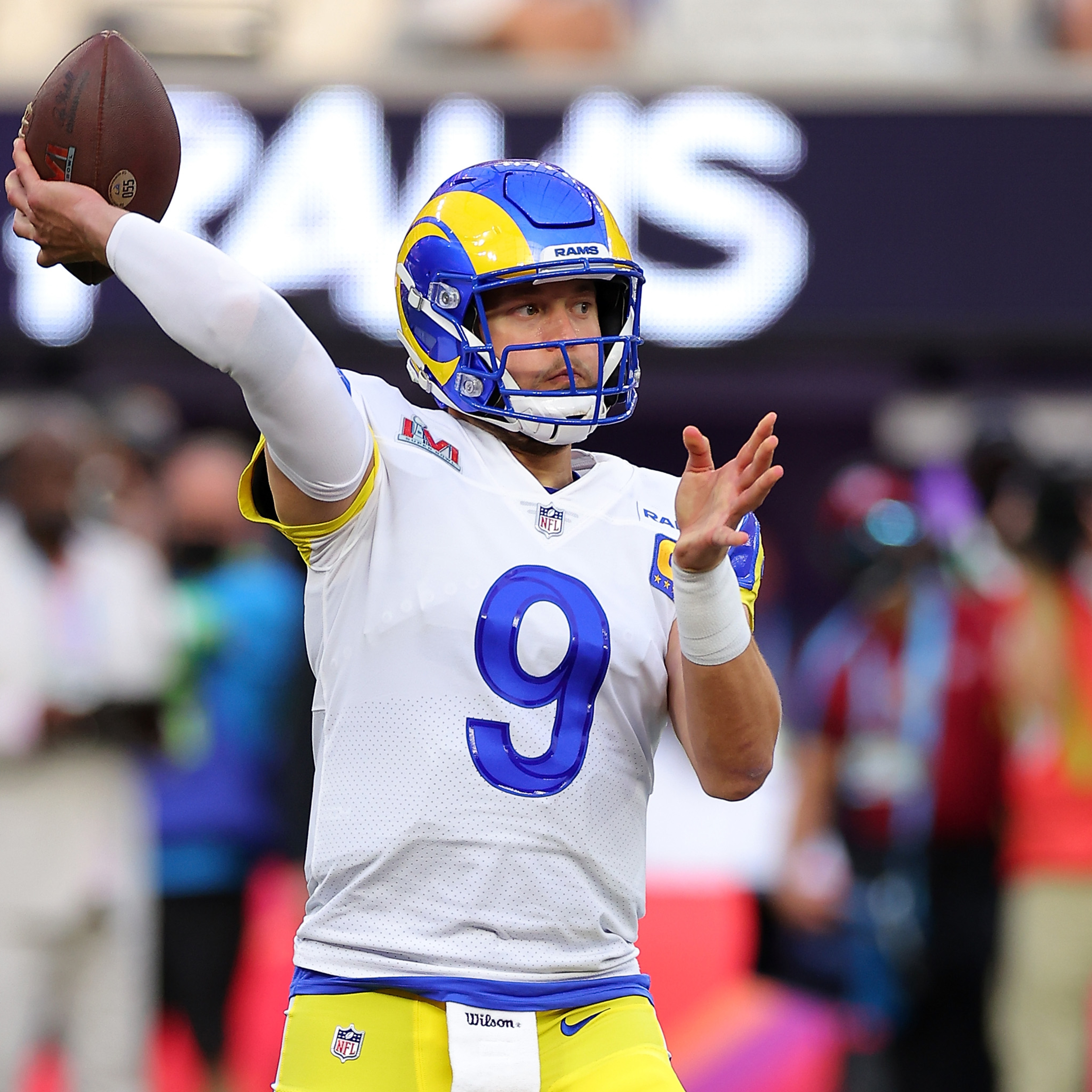 'Sunday Night Football' schedule 2022
Start time: 7:20 p.m. CT
TV channel: NBC
Live Stream: NBCSports.com, Peacock, fuboTV
| | | |
| --- | --- | --- |
| Week | Date | Matchup |
| 1 | Sept. 11 | Tampa Bay Buccaneers vs. Dallas Cowboys |
| 2 | Sept. 18 | Chicago Bears vs. Green Bay Packers |
| 3 | Sept. 25 | San Francisco 49ers vs. Denver Broncos |
| 4 | Oct. 2 | Kansas City Chiefs vs. Tampa Bay Buccaneers |
| 5 | Oct. 9 | Cincinnati Bengals vs. Baltimore Ravens |
| 6 | Oct. 16 | Dallas Cowboys vs. Philadelphia Eagles |
| 7 | Oct. 23 | Pittsburgh Steelers vs. Miami Dolphins |
| 8 | Oct. 30 | Green Bay Packers vs. Buffalo Bills |
| 9 | Nov. 6 | Tennessee Titans vs. Kansas City Chiefs |
| 10 | Nov. 13 | Los Angeles Chargers vs. San Francisco 49ers |
| 11 | Nov. 20 | Cincinnati Bengals vs. Pittsburgh Steelers |
| 12 | Nov. 27 | Green Bay Packers vs. Philadelphia Eagles |
| 13 | Dec. 4 | Indianapolis Colts vs. Dallas Cowboys |
| 14 | Dec. 11 | Kansas City Chiefs vs. Denver Broncos |
| 15 | Dec. 18 | New England Patriots vs. Las Vegas Raiders |
| 16 | Dec. 25 | Tampa Bay Buccaneers vs. Arizona Cardinals |
| 17 | Jan. 1 | Los Angeles Rams vs. Los Angeles Chargers |
| 18 | Jan. 8 | TBD |
'Monday Night Football' schedule 2022
Start time: 7:15 p.m. CT
TV channel: ESPN
Live Stream: ESPN app, ESPN+, fuboTV
| | | |
| --- | --- | --- |
| Week | Date | Matchup |
| 1 | Sept. 12 | Denver Broncos vs. Seattle Seahawks |
| 2 | Sept. 19 | Buffalo Bill vs. Tennessee Titans (6:15 p.m. CT, ESPN) |
| 2 | Sept. 19 | Philadelphia Eagles vs. Minnesota Vikings (7:30 p.m. CT, ABC) |
| 3 | Sept. 26 | Dallas Cowboys vs. New York Giants |
| 4 | Oct. 3 | Los Angeles Rams vs. San Francisco 49ers |
| 5 | Oct. 10 | Las Vegas Raiders vs. Kansas City Chiefs |
| 6 | Oct. 17 | Denver Broncos vs. Los Angeles Chargers |
| 7 | Oct. 24 | Chicago Bears vs. New England Patriots |
| 8 | Oct. 31 | Cincinnati Bengals vs. Cleveland Browns |
| 9 | Nov. 7 | Baltimore Ravens vs. New Orleans Saints |
| 10 | Nov. 14 | Washington Commanders vs. Philadelphia Eagles |
| 11 | Nov. 21 | San Francisco 49ers vs. Arizona Cardinals (Mexico City) |
| 12 | Nov. 28 | Pittsburgh Steelers vs. Indianapolis Colts |
| 13 | Dec. 5 | New Orleans Saints vs. Tampa Bay Buccaneers |
| 14 | Dec. 12 | New England Patriots vs. Arizona Cardinals |
| 15 | Dec. 19 | Los Angeles Rams vs. Green Bay Packers |
| 16 | Dec. 26 | Los Angeles Chargers vs. Indianapolis Colts |
| 17 | Jan. 2 | Buffalo Bills vs. Cincinnati Bengals |