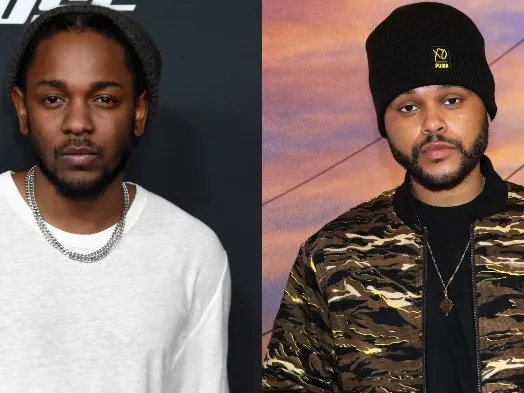 Hello this is pt.2 of music artist history. Today ill be talking about Kendrick Lamar and The Weeknd.
Kendrick Lamar Duckworth was born June 17, 1987. He was raise in Compton, California. He was not in a gang but he had a lot of gang members around him. He started his music career as a teenager with his name being K Dot. Releasing his first mixtape called Y. H. N. I. C. But he would get attention in 2010 after his first release called "Overly Dedicated". The next year he would make an album by himself called "Section 80". He had a a lot of followers, and would also collab with prominent rappers. Soon he would sign a record deal with Dr. Dre Aftermath Entertainment, which is under Interscope records. Lamar would make major-label debut album named "Good Kid" and "M. A. A. D City". Both were released in 2012. In 2015 he would release another album called "To Pimp a Butterfly". That would become his first number 1 album on the top 200 songs billboard. He would again make another album call "Damn". That would be the first non-classical and non-jazz album to be awarded at the Pulitzer Prize for music. Which also made his single number 1 called "Humble". He would soundtrack a song for the movie black panther in 2018. In 2022 he would release another album called "Mr. Morale & Big Steppers". Which a lot of people disliked.
The Weeknd or Abel Makkonen Tesfaye was born Feb. 19, 1990 he is 32 years old. Born in Toronto, Ontario Canada. He started in 2009 by secretly releasing music on Youtube. Two years later he would co-found the XO record label, and would start releasing mixtapes. They were "House of balloons", "Thursday", and "Echoes of silence". Which would gain some attention. In 2012 he would sign with Republic Records. He would release more mixtapes and an album called "Trilogy". He would try a different music style on his album "Kiss Land" which released in 2013. That would hit number 2 on the 200 billboard. The Weeknd would make a single for the show "Fifty Shades of Grey" called "Earned it". The single would win the "Grammy Award for Best R&B performance", and being nominated for "Academy Award for Best Original Song". The Weeknd made another album called "Beauty Behind the Madness". That would hit number 1 in the U.S. They also had "Cant Feel My Face" and "The Hills" in the album. The album got an award called "Grammy Award for Best Urban Contemporary Album". Also nominated for "Album of the Year". He made his 3rd album call "Starboy" in 2016. It also won "Grammy Award for Best Urban Contemporary Album". He made another album in 2020 called "After Hours". Then make another one 2 years later called "Dawn FM".