Jermaine Lamarr Cole is an American rapper, singer, songwriter, and record producer. Cole, who was raised in Fayetteville, North Carolina, and was born on a military base in Germany, first rose as a rapper after his debut mixtape, The Come Up, 2014 Forest Hills Drive, and to the Off Season. Cole became one of the most influential artists of this generation.
Early Life and Career
Cole was born on January 28, 1985, at a US military installation in Frankfurt, Germany. His mother, Kay, is a European American who worked as a postal worker for the United States Postal Service, and his father was an African American veteran of the U.S. Army. Cole's father later left the family while he was a child. At the age of eight months, his mother relocated to Fayetteville, North Carolina, He and his older brother Zach. Cole grew raised in a multicultural setting, and when questioned how much his ethnicity affects him, he said, "It doesn't really affect me at all." Growing up, Cole had a passion for basketball and music, and from 1997 to 2003, he played first-chair violin with the Terry Sanford Orchestra. Growing up, Cole always carried a high GPA. Cole started rapping when he was twelve years old, and in 2000, after his mother gave him a music sampler for Christmas, he decided that rapping would make the perfect career. Cole put a greater emphasis on honing his production abilities at this time. Later, Cole worked with the group Bomm Sheltuh, rapping, and producing with them. Cole thought that moving to New York City would give him the best chance to get a recording deal. After working as a computer science major, Cole changed his major from computer science to communication and business. Cole held jobs as a bill collector, a file clerk, a working ad salesman for a newspaper, and a kangaroo mascot at a skating rink. Cole and his cousin worked on building their fundamental understanding of rhyming and wordplay as well as starting to learn how to incorporate storytelling inside their songs after being musically inspired by Canibus, Nas, Tupac, and Eminem. By the age of 14, Cole had several notebooks full of musical ideas, but he was only capable of sampling rhythms. He started posting songs on numerous online forums over the course of the following three years under the moniker Blaza but then changed it to Therapist. Cole visited Roc the Mic Studio after creating a complete CD's worth of beats. Cole waited for more than three hours before Jay Z let him go. The CD later became Cole's debut mixtape, The Come Up.
The Warm Up, Roc Nation, Cole World: The Sideline Story
(2009-2011)
On June 15, 2009, J. Cole released The Warm Up, his second mixtape, to positive reviews. The Warm Up became the reason Cole had been signed to Jay-Z's record label, Roc Nation. Cole was then featured on The Blueprint 3 by Jay Z. From January 5-21, 2011, Cole was with Drake on his Light Dreams and Nightmares UK Tour. "HiiiPoWeR," a song Cole produced for Kendrick Lamar's 2011 album Section.80. Following "Simba" and "Grown Simba," Cole released "Return of Simba" on May 22, 2011, the third song in the "Simba" series. Cole later September 27, 2011, released Cole World: The Sideline Story. The top singles consisted of "Can't Get Enough", "Work Out", and "Nobody Perfect". The topics of the album are relationships, family concerns, and striving for success. The album debuted at the top of the Billboard 200 list with 218,000 copies sold in its first week, and the RIAA awarded it a gold certificate.
Born Sinner, Truly Yours, and 2014 Forest Hills Drive (2012-2014)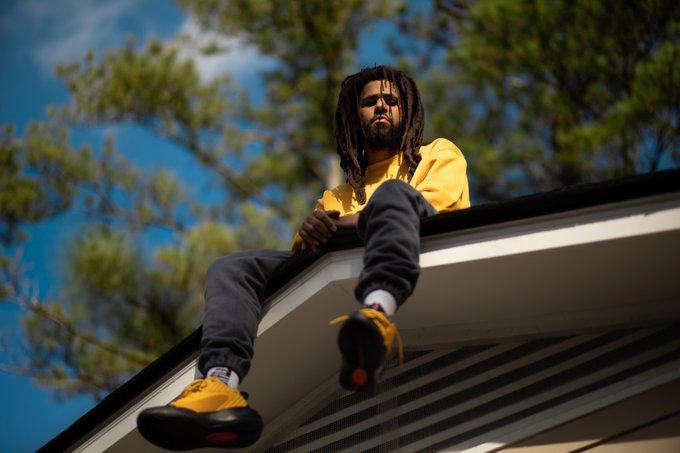 On July 2012 Cole released "The Cure", which hinted at a new album, but in October, his second album was complete, and he was waiting until after Lamar released good kid, m.A.A.d city to reveal it. Later they lined up the release date to the same week as Kanye West's "Yeezus". On February 12, 2013, Cole also released an EP named "Truly Yours" as it was cut tracks for Born Sinner and Cole World and on April 30th, he released the second part of the EP. On June 18th, 2013, Cole releases "Born Sinner". The top tracks consisted of "Power Trip", "Crooked Smile", and "She Knows". The themes represented Cole's journey from dark to light. On August 15, 2014, Cole released "Be Free" responding to the shooting of Michael Brown in Ferguson. Cole announced the release date of his third studio album, 2014 Forest Hills Drive, in a video that he posted on November 16. Later on December 9th, 2014, Cole released 2014 Forest Hills Drive, his most popular album. The top tracks consisted of "Apparently", "Wet Dreamz", "No Role Modelz", and "Love Yourz". The album recounts Cole's upbringing and battles with the transitions that were taken to find his success and fame within the music industry.
4 Your Eyez Only, KOD, and Revenge Of the Dreamers III
(2016-2019)
Cole published the 40-minute documentary Eyez on December 2nd, 2016. It includes two music videos for the songs "Everybody Dies" and "False Prophets," as well as behind-the-scenes footage of Cole and his team members creating the album. "False Prophets" and "Everybody Dies" were released on December 5. On December 9th, Cole released 4 Your Eyez Only, to great success. The top tracks were   "Deja Vu," and "Neighbors". The album's story is about a young man's journey from selling drugs to finding love and raising a family. Nearly the entire album is a cassette he made for his daughter to listen to after he passes away, and the closing track makes it clear that he has passed away. On April 20th, 2018, Cole releases KOD after many recording sessions. The album's cover and track list show twelve tracks and two features, by Cole's alter ego, Kill Edward. Cole mentioned that KOD has 3 meanings, Kids on Drugs, King Overdosed, and Kill Our Demons. The top tracks are "KOD" and "ATM". The Albums themes are drug abuse, depression, and greed. On July 5th, 2019, Cole released a compilation album called Revenge of the Dreamers III with many features, and the highest single being "Middle Child".  The compilation consisted of 343 different artists and a 10-day schedule. He was still gaining positive reviews and awards.
The Off Season, The Fall off, and Sports (2020-)
On July 23, 2020, Cole released two songs, "The Climb Back" and "Lion King on Ice", which serves as the first two songs from his upcoming album The Fall Off, and delayed the album Cole later released The Off-Season, which is the sixth studio album released on May 14, 2021, by Dreamville Records. The top tracks are "Pride is the Devil" and "My Life". The Off-Season describes the work that it takes to get to the highest height. Cole entered into a contract with the Patriots Basketball Club in Rwanda's Basketball Africa League on May 10, 2021. On May 16 against the Rivers Hoopers, Cole made his professional debut, with three points, three rebounds, and two assists in 17 minutes. He played 45 minutes in three games for the club, recording five points, three assists, and five rebounds. He was only obligated to play for three games at the most. After participating in the three games, he left the team.
Facts:
Cole listed the real address 2014 Forest Hills Drive for "very inexpensive" rent in the hopes that any suffering neighbors may use it to advance their lives without having to worry about moving frequently, which Cole experienced owing to persistent financial difficulties.
During the composition of The Come Up, Cole started his own record label in early 2007 called Dreamville Records. In October 2011, Cole established The Dreamville Foundation.
Melissa Heholt is the wife of J. Cole. Cole has two children.
Sources
https://www.biography.com/musician/j-cole
https://www.hiphopscriptures.com/jcole