Are you looking for Halloween deserts inspo? Get into your Halloween spirit with these spooky recipes made to thrill your friends and family!
Jack-O'-Lantern Sandwich Cookies
The Jack-O'-Lantern Sandwich Cookies are delicious pumpkin sugar cookies decorated with frosting to look like Jack-O'-Lanterns. Learn how to make these festive cookies:
Ingredients
For the Cookies:
2 cups of Butter – softened to room temperature
2 cups of Sugar
2 Eggs
3 teaspoons of Vanilla
5 cups of Flour
Pumpkin cookie cutter
For the Frosting:
2 cups of Powdered Sugar
2 Tablespoons of Milk
1/2 teaspoon of Vanilla
Food color gel- Orange, Black, and Green
Halloween sprinkles
Directions:
Preheat the oven to 350 degrees.
In the mixing bowl of a stand mixer, add the Butter, Sugar, Eggs, and Vanilla, and blend on Medium speed until light and fluffy.
Add Flour one cup at a time, and mix on low speed until all the Flour has been added, and a soft cookie dough has formed.
Place about 1/4 of the dough on a floured surface, and with a rolling pin, roll the dough to 1/4 inch thick.
Cut out the cookies with the Cookie Cutters, and place on baking sheets, and bake for 8 to 10 minutes. Continue until all the cookie dough has been rolled, cut out, and baked.
When cookies are baked, remove from the oven and place cookies on a wire rack to cool.
While the Cookies are cooling, make the Frosting.
In the mixing bowl of a stand mixer, mix the Powdered sugar, Milk, and Vanilla on low speed until blended, then mix on higher speed until mixed completely.
Divide the Frosting evenly, into three individual dishes or Ramekins.
Add a few drops of food coloring to the Frosting, and stir well until desired color is reached. Add colored Frosting to clear piping bags, and snip off the tip of each bag, leaving a small opening at the tip of the bag.
Start piping the frosting to decorate your Jack-O'-Lantern Sandwich Cookies and you're done!
Halloween Cheesecake Bars
If you are a fan of cheesecake you will love these Halloween Cheesecake Bars. Here's the recipe for these delicious dessert bars:
Ingredients:
40 Chocolate sandwich cookies (1 lb.), such as Oreos
6 tbsp. salted butter, melted
For the Filling:
2 lb. cream cheese, softened
2 tsp. vanilla
1 c. sugar
1/4 tsp. kosher salt
1 c. sour cream, at room temperature
4 large eggs, at room temperature
1/4 c. canned pumpkin
1/4 c. semisweet chocolate chips (1.5 oz.), melted and cooled
Candy corn, candy eyeballs, and Halloween sprinkles for serving
Directions:
For the crust: Preheat the oven to 325º. Line a 9-by-13-inch baking pan with parchment paper with at least 1 inch of excess paper over the sides.
Process the Oreos in a food processor until finely crushed. Add the melted butter, and pulse to combine. Press the Oreo mixture into the bottom of the parchment-lined pan. Bake the crust for 10 minutes or until fragrant and dry to the touch. Let the crust cool for at least 15 minutes.
For the filling: Beat the cream cheese, vanilla, sugar, and salt in a large bowl with a mixer at medium speed 1 minute or until smooth. Beat in sour cream until well combined. Beat in eggs, 1 at a time, just until combined.
Place 1/4 cup of the batter in a small bowl. Place 1/2 cup of the batter in a separate small bowl. Pour the remaining batter over the baked crust, spreading it into an even layer.
Stir the pumpkin into the bowl with 1/4 cup of the reserved cheesecake batter until combined. Stir the melted chocolate into the other bowl with 1/2 cup of the reserved cheesecake batter until combined. Spoon the pumpkin and chocolate batter by teaspoonfuls randomly over the top of the cheesecake batter in the pan; swirl with the tip of a wooden skewer or a paring knife.
Bake the cheesecake for 35 to 40 minutes or until just set in the center (it will still jiggle slightly). Cool the cheesecake at room temperature for 1 hour, then refrigerate for at least 4 hours or up to overnight.
Before serving, top the bars with candy corn, candy eyeballs, and Halloween sprinkles. Cut into 16 bars.
Pumpkin Ginger Floats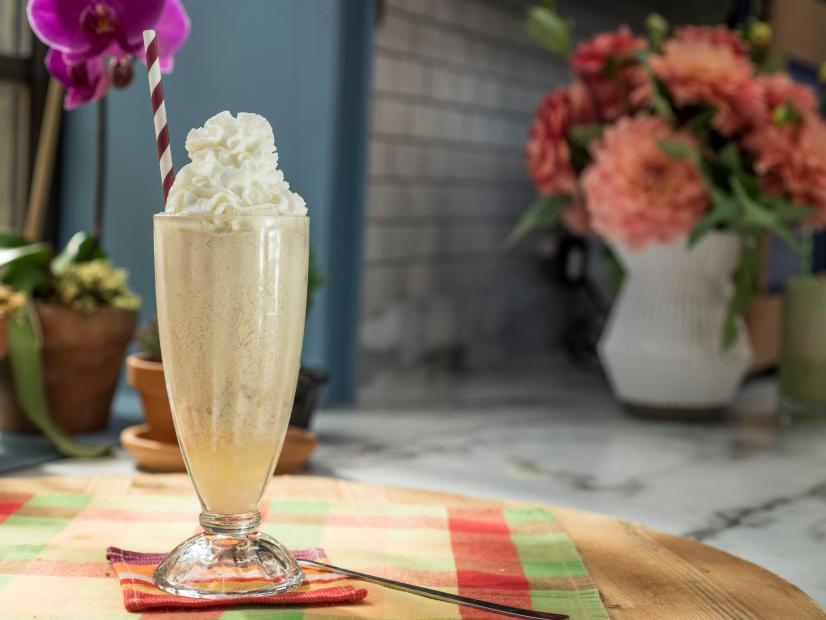 to end it off we have these ice cream floats to wash it all down! This recipe is a classic root beer float variation, with 1 to 2 scoops of pumpkin ice cream and a bottle of root beer with a Pirouette cookie, and a dash of cinnamon. Find out how to make these Pumpkin Ice Cream Floats:
Ingredients:
1-pint pumpkin ice cream
Two 12-ounce bottles of ginger beer
Whipped cream
Directions:
Place 4 float glasses in the freezer to chill.
When ready to serve, scoop 1 to 2 scoops of ice cream into each glass. Slowly pour the ginger beer over the ice cream until it meets the rim of the glass. Garnish with whipped cream and serve immediately.