Giants vs. Ravens: Week 6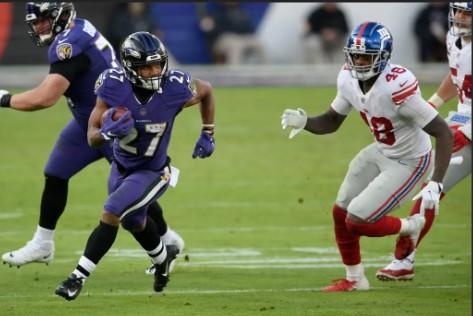 The New York Giants had a great week 6 with a comeback 24-20 victory. Daniel Jones completed 19 of 27 for 173 yards and two touchdowns, one which went to Wan'Dale Robinson and the other went to Daniel Bellinger. Saquon Barkley didn't dominate the game, but he finished with 1 touchdown and rushed for 83 yards.
Jackson completed 17 of 32 passes for 210 yards, one touchdown, and one interception. Kenyan Drake rushed 119 yards and 1 touchdown in 10 carries. Mark Andrews catches 7 passes for 106 yards and 1 touchdown.
The Giants did not look good last Sunday and didn't even get to 100 yards until the 3rd quarter. But since they won Sunday, New York forced both of Baltimore's 2 turnovers in the final 4 minutes. They scored 14 unanswered points, Jackson tried to orchestrate a game-winning drive but the Giants wanted to win more than the Ravens did.
During Sunday's game the Ravens lost because during the 4th quarter they collapsed. Jackson made some questionable decisions. This is the 3rd double digit lead they've blown in 6 weeks.
The Ravens took over at their own 25-yard line and they had 3 timeouts. Jackson was stripped by Thibodeaux. On third-and-6, Jackson scooped a bad snap and while on the run, threw a pass towards the middle of the field. Julian Love cut it off and set up the touchdown so the Giants would win.