Sidemen vs YouTube all stars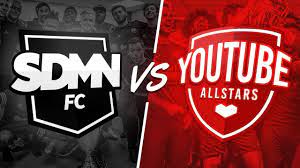 Sidemen Fc beat YouTube ALL- stars 8-7 as 2.4 million people tune in to watch the Sidemen Charity Match. UK YouTube Group sidemen ended an eventful evening in London with an emphatic 8-7 Victory over YouTube ALL-stars. The match was livestreamed for free on the official Sidemen channel, garnering over 2.4 million concurrent viewers as its peak.
In addition to that over 27k fans attended the game at the Charlton Athletic stadium. This was the fourth charity football event organized by the YouTube group. The first three matches were held consecutively between 2016 and 2018. The match was highly entertaining. Not only fans get to see some of the biggest creators try out their skills on the field, but they were also treated to an absolute goalfest. With over 15 goals scored, this has been one of the most prolific and enthralling charity matches in recent years.