2022 World Series Matchup
The World Series matchup has now been set and these two teams are ready for the big stage!
The team who will be representing the American League is the Houston Astros. The Astros have been beyond phenomenal this postseason, they swept the Settle Mariners in the ALDS (American League Division Series) who have not been to the postseason for more than two decades. After the Astros took care of the Mariners, they would await their opponent for the ALCS (American League Championship Series) matchup. That team would end up being the astronomic, almighty, and powerful New York Yankees. Now the Yankees would be coming off of short rest to start this series, that for sure was the problem for them as they struggled mightily across every aspect in this series and the Astros would sweep the Yankees to advance to yet another World Series.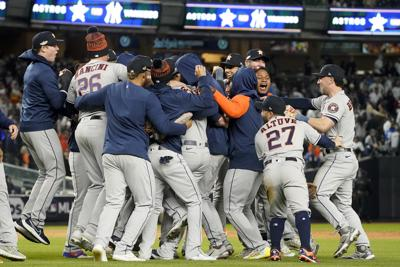 The team who will be representing the National League is the Philadelphia Phillies. To say this team has been the underdog this postseason, that would be understatement. The Phillies have came out of no where this postseason, they posses the worst record out of the teams that made the postseason in the National League. They started the postseason in the wildcard against the St. Louis Cardinals, they would sweep them in 2 games, and put an end to the career of Albert Pujols, Yaider Molina, and possibly Adam Wainwright. The Phillies next opponent would be the defending World Champion, Atlanta Braves. So the baseball world assumed that the task of taking this team down would be a tough one, however, the Phillies seemed like they wanted it more and won the NLDS (National League Division Series) 3 – 1. Now punching their ticket to the NLCS (National League Championship Series), where on the same night, the San Diego Padres would completely shock everyone and take down the 110+ win Los Angeles Dodgers. So the stage would be set for the NLCS, both teams being as hungry for a World Series birth as ever before. In game 5 the Phillies would be down 3 to 2 going into the bottom of the 8th, first catcher J.T. Realmuto would get on base with a single, then the Phillies best hitter came up to the plate, Bryce Harper, and he would deliver the hit of his life, hitting a 2-run homerun to left field to give his team a 4 to 3 lead. The Phillies would shut the door in the 9th inning. So all in all, the Phillies would dominate this series, hitting the ball out of the park plenty of times, and punching their ticket to the Fall Classic.
The World Series will begin on Friday, October 28th, at 7:03 PM on Fox, do not miss out on this one, it is going to be a great series.