Kansas State Wildcats Ranked #13th in the Country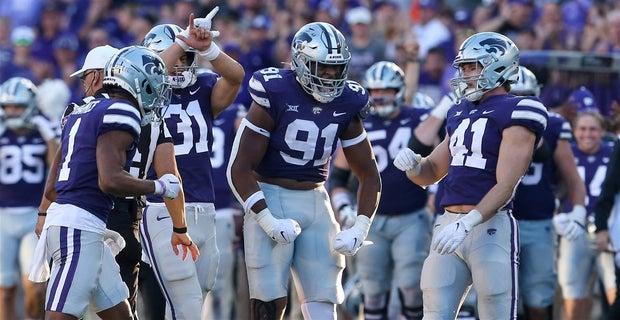 On Saturday, October 22nd, The Kansas State Wildcats took on the undefeated TCU Horned Frogs @ TCU. Early on in this game, the Wildcats Quarterback Adrian Martinez suffered an injury and had to be take out of this game. So Wildcats backup Will Howard came into the game and did the best he could. Howard went for 225 passing yards, 2 passing touchdowns, and 1 interception. Wildcats running back Deuce Vaughn rushed for 83 yards and averaged 6.9 yards per carry with 1 touchdown. The Wildcats gave up the lead in the 2nd half of this game and the final score would be 28 to 38, TCU.
The next Saturday, on October 29th, The Kansas State Wildcats would take on the #9 ranked Oklahoma State Cowboys @ home in Manhattan. Adrian Martinez would still be out due to injury, so the backup Will Howard took over at the quarterback position for this game. Howard went for 296 passing yards and 4 touchdowns. On top of Howard's great game, Vaughn would rush for 158 yards and averaged 7.2 yards per carry with 1 touchdown. The defense also got plenty of sacks and 1 turnover. The Wildcats would blow out the Cowboys 0 to 48 at home. This major win would bump their overall ranking in the country all the way up to #13.
| | | | |
| --- | --- | --- | --- |
| Rank | School | Previous | Record |
| 1 | Georgia | 1 | 8-0 |
| T-2 | Ohio State | 2 | 8-0 |
| T-2 | Tennessee | 3 | 8-0 |
| 4 | Michigan | 4 | 8-0 |
| 5 | Clemson | 5 | 8-0 |
| 6 | Alabama | 6 | 7-1 |
| 7 | TCU | 7 | 8-0 |
| 8 | Oregon | 8 | 7-1 |
| 9 | Southern California | 10 | 7-1 |
| 10 | UCLA | 12 | 7-1 |
| 11 | Ole Miss | 15 | 8-1 |
| 12 | Utah | 14 | 6-2 |
| 13 | Kansas State | 22 | 6-2 |
| 14 | Illinois | 17 | 7-1 |
| 15 | LSU | 18 | 6-2 |
| 16 | Penn State | 13 | 6-2 |
| 17 | North Carolina | 21 | 7-1 |
| 18 | Oklahoma State | 9 | 6-2 |
| 19 | Tulane | 23 | 7-1 |
| 20 | Wake Forest | 10 | 6-2 |
| 21 | NC State | 21 | 6-2 |
| 22 | Syracuse | 16 | 6-2 |
| 23 | Liberty | NR | 7-1 |
| 24 | Oregon State | NR | 6-2 |
| 25 | UCF | NR | 6-2 |