NFL Week 10 Power Rankings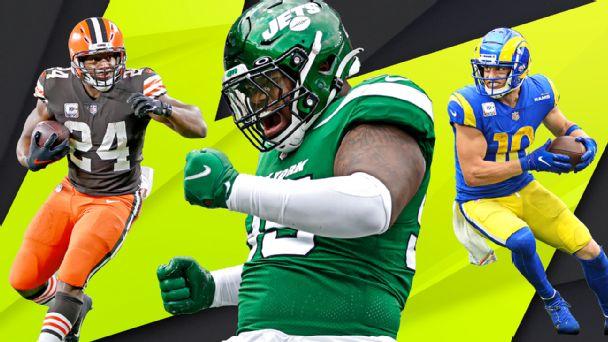 1. Philadelphia Eagles (8-0)
As of right now, they are clearly the best team in NFL. We shall see if they can keep it up.
2. Kansas City Chiefs (6-2)
They did not look as great against the Titans, but they found a way to pull it out in the end. Which is a good sign of a good team.
3. Minnesota Vikings (7-1)
They have now won six straight. They will look to keep it going against the Bills.
4. Buffalo Bills (6-2)
Josh Allen's elbow injury will need to be watched and is a bigger concern for them right now. It will be a tough challenge.
5. Dallas Cowboys (6-2)
This will be a revenge game for Mike McCarthy against the Packers this week as the Cowboys are coming off the bye.
6. Miami Dolphins (6-3)
The offense has looked amazing this season but the defense needs to improve to win more games.
7. Baltimore Ravens (6-3)
The defense dominated in Monday's win against the Saints and they look like they are back.
8. Tennessee Titans (5-3)
This team showed against the Chiefs that they tough and physical to go against.
9. Seattle Seahawks (6-3)
With this record, they lead the division as they head to Germany to take on the Bucs.
10. San Francisco 49ers (4-4)
The 49ers will look to keep the momentum up coming off the bye week with their new and improved offense.
| | |
| --- | --- |
| Teams: | Rank: |
| Cincinnati Bengals (5-4) | 11 |
| New York Giants (6-2) | 12 |
| New England Patriots (5-4) | 13 |
| New York Jets (6-3) | 14 |
| Los Angeles Chargers (5-3) | 15 |
| Atlanta Falcons (4-5) | 16 |
| Tampa Bay Buccaneers (4-5) | 17 |
| Washington Commanders (4-5) | 18 |
| Cleveland Browns (3-5) | 19 |
| New Orleans Saints (3-6) | 20 |
| Los Angeles Rams (3-5) | 21 |
| Denver Broncos (3-5) | 22 |
| Arizona Cardinals (3-6) | 23 |
| Indianapolis Colts (3-5-1) | 24 |
| Pittsburgh Steelers (2-6) | 25 |
| Jacksonville Jaguars (3-6) | 26 |
| Detroit Lions (2-6) | 27 |
| Green Bay Packers (3-6) | 28 |
| Las Vegas Raiders (2-6) | 29 |
| Chicago Bears (3-6) | 30 |
| Carolina Panthers (2-7) | 31 |
| Houston Texans (1-6-1) | 32 |
According to CBS Sports