School Bus crashes into NYC home, more than 20 injured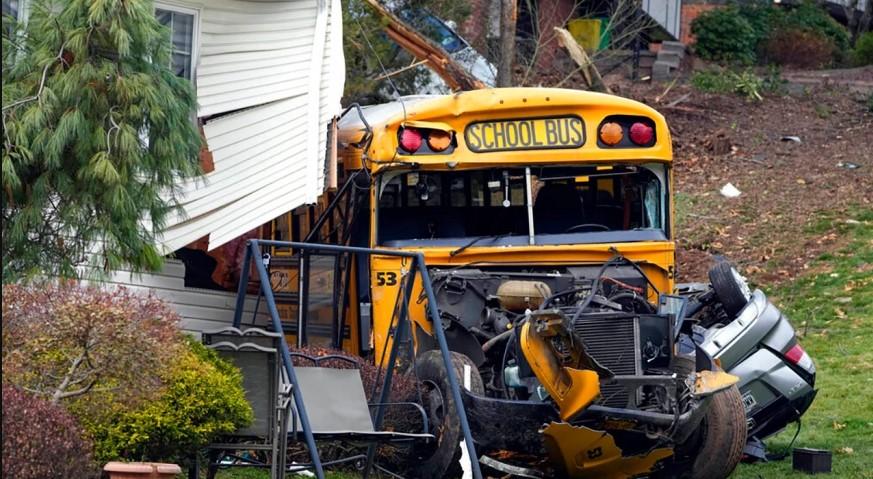 In Ramapo, NY, multiple injuries have been reported on Thursday when a school bused crashed into a home and a vehicle in suburb north of New York City. It happened before 9am in the village of New Hempstead in Rockland County.
On broadcasts, news stations, and social media a yellow school bus rest against the house and a overturned car next to it. Part of the path it torn and a broken tree limb that's stretched up behind the bus. It's appeared that it crushed the engine on the bus and torn away part of the home's siding.
Several children and the bus driver have been taken to the hospital for treatment. Six were taken to the pediatric trauma center at Westchester Medical Center. Police reported that the bus was using the road as a shortcut and was speeding. It's also reported that seven more kids have been hurt when the bus crashed into the house. The seven children were taken to the hospital, five of them had minor bruises, and the two other boys had sustained injuries that were serious but not life-threatening.
"They're in great medical care right now and we certainly wish them a speedy recovery." Josh Hans.
Two more children were being treated at Nyack Hospital and the driver was already at Good Samaritan Hospital in Suffern.
It's unclear what set off the crash or if there's an arrest. Ramapo police are leading into the investigation. First responders and school officials from the Hasidic community were already there at the scene.
"Our primary concern was obviously for immediate life threats to all patients, and especially with a school bus, we want to make sure that all patients are accounted for." Hans said.
"In any care accident, you might know how many family members or people you're traveling with, but with a school bus, it can get confusing."
A mother told reporters that her 10-year-old son was taken to the hospital to be evaluated following the crash, luckily only suffering from bruising on his leg and has no serious injuries.
"He tried an emergency window, but he said there was a car turned over right there so he couldn't jump out right there," The woman said, holding another young child, not wanting to share her name.
"So, he tried to find the next available one, and he said he was waiting on line, my little boy. He was waiting on line to be able to jump out."
Other children that had minor injuries were fully evaluated by paramedics and then released back into school, and administrators and another bus were at the scene.
"It was quite chilly this morning, so one of the neighbors was kind enough to allow all of these kids to come into the house to be seen and evaluated, rather than in 30-degree weather in the street." A first responder said.
"Thankfully, it was chaotic. They weren't crying."