Kendrick Lamar: Compton's Human Sacrifice
Kendrick Lamar Duckworth is an American rapper and songwriter. Known for his progressive musical styles and socially conscious songwriting, he is often considered one of the most influential hip hop artists of his generation. Born and raised in Compton, California. Lamar began his career as a teenager performing under the stage name K.Dot. He quickly garnered local attention which led to him signing a recording contract with Top Dawg Entertainment. Then preforming "Alright" during Superbowl LVI's halftime show alongside rap legends. Kendrick's work is categorized as progressive rap due to his contributions to the genre by bringing in his real life experiences into music.
Early Life and Career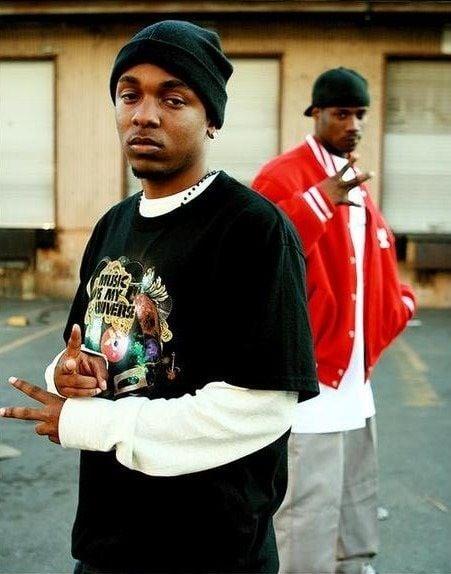 Kendrick Lamar Duckworth was born in Compton, California, on June 17, 1987. Kendrick is the son of a couple from Chicago. Although not in a gang himself, he grew up around gang members as his closest friends being Westside Piru Bloods and his father, Kenny Duckworth, being a Gangster Disciple. His first name was given to him by his mother, Paula Oliver, in honor of Eddie Kendricks of The Temptations. He grew up on welfare and in Section 8 housing. In 1995, at eight years old, Lamar witnessed Tupac Shakur and Dr. Dre filming the music video "California Love," he took for inspiration in his life. As a child, he was sent to McNair Elementary, and Vanguard Learning Center located in Compton. Kendrick was known S a little quiet and shy. Lamar further educated at Centennial High, where he graduated as a straight-A student in 2005. Lamar is a devout Christian, having converted after the death of a friend. He has been open about his faith in his music and interviews.
Lamar has been baptized twice; first when he was 16 and again in 2013. Lamar has credited God for his fame and faith from the crime in Compton when he was growing up. Kendrick also believes his career is inspired by the lord, saying in an interview in 2014, "I got a greater purpose, God put something in my heart to get across and that's what I'm going to focus on, using my voice as an instrument and doing what needs to be done." In 2003, at the age of 16, Lamar released his first full-length project, a mixtape titled "Youngest Head N**ga in Charge" under the name K.Dot. The mixtape was released under Konkrete Jungle Muzik and garnered local recognition for Lamar. The mixtape led to Lamar securing a contract with Top Dawg Entertainment. He began recording music with the label and subsequently released a mixtape two years later, named Training Day released in 2005. Throughout 2006 and 2007, Lamar would appear alongside Jay Rock and Ya Boy, as an opening act for rapper The Game. Under the moniker K.Dot, Lamar was also featured on The Game's songs "The Cypha" and "Cali N**gaz". After receiving a co-sign from Lil Wayne, Lamar released his third mixtape named C4 released in 2007, which was heavily themed around Wayne's album "Tha Carter III". Soon after, Lamar decided changed his stage name K.Dot his real name. Later, Lamar along with Jay Rock, Ab-Soul and ScHoolboy Q formed Black Hippy, a hip hop supergroup. Lamar states that Tupac Shakur as his biggest influence, noting that he has impacted his music and life. He has stated that Shakur, the Notorious B.I.G., Jay-Z, Nas and Eminem are his top five favorite rappers.
Overly Dedicated and Section.80 (2010-2011)
On September 14, 2010, he released the visuals for "P&P 1.5," a song from his mixtape, Overly Dedicated, featuring Black Hippy. On the same date, Lamar released Overly Dedicated to digital retailers under TDE, and later on September 3, released it for free online. Overly Dedicated received mostly positive reviews. The mixtape includes a single titled "Ignorance Is Bliss," which this song specifically that made hip hop producer Dr. Dre want to work with Lamar. J Cole helped introduce Lamar to Dre which led to Lamar working with Dr. Dre and Snoop Dogg on Dre's "Detox" album, as well, Lamar signing to Dr. Dre's record label, Aftermath Entertainment. On April 11, 2011, Lamar announced the title of his next project to be Section.80, and the following day the first single "HiiiPoWeR" was released, the concept of which was to further explain the HiiiPoWeR movement. The song was produced by rapper J. Cole, marking their first of several collaborations. In June 2011, Lamar released "Ronald Reagan Era (His Evils)," a cut from Section.80. On July, 2011, Lamar released Section.80, his debut studio album. Section.80 recounts the lives of Tammy and Keisha as it explains the personal hardships in their lives and any lives in the 1980s to 1990s with the crack epidemic. Section.80 went on to sell 5,300 digital copies in its first week, without any media coverage, and received mostly positive reviews from the songs "A.D.H.D", "Kush & Corinthians", and "HiiiPoWeR". In August, while performing at a West Los Angeles concert, Lamar was dubbed the "New King of the West Coast" by Snoop Dogg, Dr. Dre and Game.
good kid, m.A.A.d city (2012-2013)
In March 2012, Lamar had signed a deal with Interscope Records and Aftermath Entertainment, marking the end of his career as an independent artist. "The recipe" the single was produced by Scoop DeVille and features vocals from his Dr. Dre. On July 31, TDE, Aftermath, and Interscope announced that "Swimming Pools (Drank)" as the lead single from Lamar's debut album. The song peaked at 17 on top 100. Lamar's major-label debut, "good kid, m.A.A.d city", was released on October 2012. The album debuted at number two in the US, selling 4,100 copies in its first week with hits like "Backseat Freestyle", "Swimming Pools (Drank)", and "Sing About Me, I'm Dying of Thirst". Kendrick explained the reason to put an image from his childhood on the album cover, stating that it showcases his innocence as a kid trying to learn the world around him. "It's really just a self-portrait. The album tells a story of various characters and internal conflicts, including the contrast of his homesickness and love for Compton even with the city's plagued condition. good Kid, m.A.A.d city has a low-key, downbeat production, with atmospheric beats and subtle hooks. In a few months' time, the album was certified gold by the (RIAA) On September 6, 2013, Kanye West announced he would be headlining his tour Yeezus Tour with Kendrick Lamar joining him on tour. In November 2013, he was named GQ's "Rapper of the Year," and was featured on the cover of the magazine's "Men of the Year".
To Pimp a Butterfly and Untitled Unmastered (2014-2016)
On September 3, 2014, Lamar released "i" as the first single from his third album. To Pimp a Butterfly was released on March 16, 2015, to positive reviews. To Pimp a Butterfly explores a variety of political and personal themes that relate to race, culture, and discrimination during Kendrick Lamar's travels around the world. The album debuted on top the US Billboard 100 chart selling 34,000 copies in its first week, and broke Spotify's global first-day streaming record of 9.6 million, with tracks such as "These Walls", "King Kunta", and "Alright". According to Lamar, the album cover represents, "just taking a group of the homies who haven't seen the world and putting them in these places that they haven't necessarily seen, or only on TV and showing them something different other than the neighborhood and them being excited about it". TPAB incorporates many musical styles using, mostly funk, jazz, and soul. Lamar was featured on the cover of Rolling Stone, with Josh Eells saying he's "arguably the most talented rapper of his generation." Lamar gained more nominations included Album of the Year and Song of the Year. In October 2015, Lamar traveled around for the Kunta's Groove Sessions Tour, which included eight shows in eight cities. In early 2016, Kanye West released the track "No More Parties in L.A." on his official SoundCloud, a collab featuring Lamar. On March 4, 2016, Lamar released a compilation album Untitled Unmastered, containing eight untitled tracks, but each dated. The tracks are the unfinished demos from the recording of To Pimp a Butterfly. The compilation album debuted atop the US Billboard 100.
Damn, Black Panther, and Hiatus (2017-2018)
On April 7, 2017, his fourth studio album was made available for pre-order and confirmed to be released on April 14. On April 11, Lamar announced the album title DAMN. and it featured the track list. The album was released on April 14, 2017, to rave reviews, with a Rolling Stone writer describing it as a combination of "the old school and the next-level." It marked Kendrick's third number one album on the Billboard 100 chart, and the single "HUMBLE." became his first number one as a lead artist on the Billboard Hot 100, with other hits such as "LOVE." and "DNA." DAMN. focuses on morality, faith, and the consequences of disobeying god. On May 4, 2017, DAMN. was certified platinum by the RIAA, using elements of conscious rap with parts of trap, R&B and pop. Lamar would later produce and curate the film soundtrack for the Marvel Studios Black Panther (2018), titled Black Panther: The Album. The single in the soundtrack, "All the Stars," was released in January featuring singer SZA, and it earned him an Academy Award nomination for Best Original Song. Shortly thereafter, another track, titled "King's Dead," was released by Jay Rock featuring Lamar. Later, "Pray For Me," by Lamar and The Weeknd, was released in February, ahead of the album's release in that month. Black Panther: The Album was released on February 9, 2018. After the Black Panther soundtrack, Lamar did not release music of his own for four years.
PGLang and Mr. Morale & the Big Steppers (2020-Present)
On March 5, 2020, Kendrick Lamar launched PGLang, which he described it as a multilingual, artist-friendly service company. In a press release, Lamar and Free another creator claimed that the company "is not a record label, a movie studio, or a publishing house. This is something new. In this overstimulated time, we are focused on cultivating raw expression from grassroots partnerships." On August 20, 2021, Lamar announced on a post that he was in the middle of producing his final album under TDE. A week later, he appeared on Baby Keem's single "Family Ties," from his studio album The Melodic Blue. Baby Keem is also Kendrick Lamar's cousin. The song marked Lamar's first single release in three years. Lamar additionally made several appearances on The Melodic Blue, on tracks such as "Range Brothers" and "Vent". On November 1, Lamar made a comeback performance by headlining the first night of Day N Vegas. On February 13, Lamar headlined the Super Bowl LVI halftime show alongside Dr. Dre, Snoop Dogg, Eminem, and Mary J. Blige, which won him the Primetime Emmy Award for Outstanding Variety Special. On May 8th, he released the promotional single "The Heart Part 5". Lamar's fifth studio album, Mr. Morale & the Big Steppers, was released on May 13 and fully of positive reviews from hits like "Die Hard", "N95", and "Silent Hill". In a musical sense the album adds elements of free jazz, funk, psychedelic jazz, blues, quiet storm, R&B and many others. From a story standpoint, the concept provides an analysis and reflection of his life experiences during his therapeutic journey. The album cover is both Kendrick and his fiancé Whitney Alford holding both of their children, showing that during his hiatus, he has had children never seen by the media. Ahead of its release, he visited Ghana to shoot a documentary alongside Spotify.
Family Life
While in Centennial High School, Lamar began dating Whitney Alford who is a beautician. In April 2015, during an interview with The Breakfast Club, Lamar revealed that they were engaged. The couple have two children together. Kendrick has a daughter named Uzi (born July 2019), and son Enoch. Lamar is an older cousin of fellow rapper Baby Keem, and he is a younger cousin of basketball player Nick Young. Kendrick Lamar is a fan of the Los Angeles Lakers, the Los Angeles Dodgers, and the Los Angeles Rams.
Sources:
https://www.britannica.com/biography/Kendrick-Lamar
https://www.blackpast.org/african-american-history/kendrick-lamar-kendrick-lamar-duckworth-1987/