Police surround NY Courthouse and DC Capitol in case of Trump arrest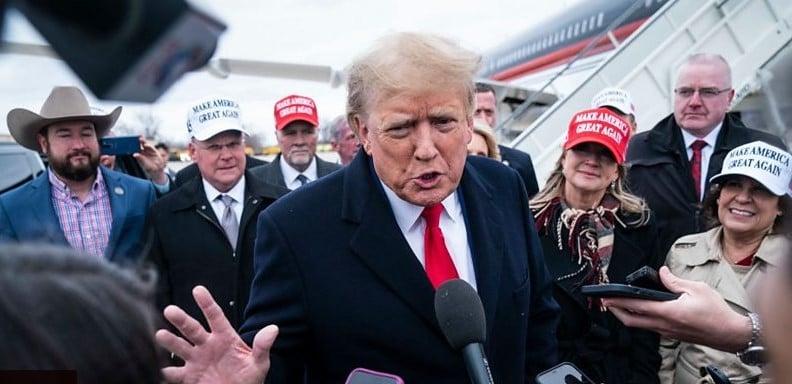 Authorities in New York, D.C., and L.A. have ramped up law enforcement presence.
A Manhattan prosecutor might charge Trump over him declaring a payment to a p**n star to keep quiet about an affair.
This would be the first criminal case against a U.S. President.
Steel barricades have been erected on Monday outside the prosecutor's office and Manhattan Criminal Court where Trump could be charged, and fingerprinted. and photographed if charges are filed this week. Police presence and barricades have been seen outside Manhattan's Trump Tower in New York.
Every member of the NYPD including, detectives, has been ordered to wear their full uniform on Tuesday and placed on standby.
Tuesday morning, camera crews and reporters have taken over the city sidewalks in the vicinity of the courthouse outnumbering the handful of demonstrators who showed up to voice their opinions on the incident.
The NYPD and the FBI have been in touch with US Secret Service about how the arrest might take place. The Secret Service agents who were assigned to protect Trump are expected to stay with him in the event of an arrest.
US media reports have already said there will be no "prep walk" when the arrested suspect is walked through a public place by officers and an opportunity for the media to take photos.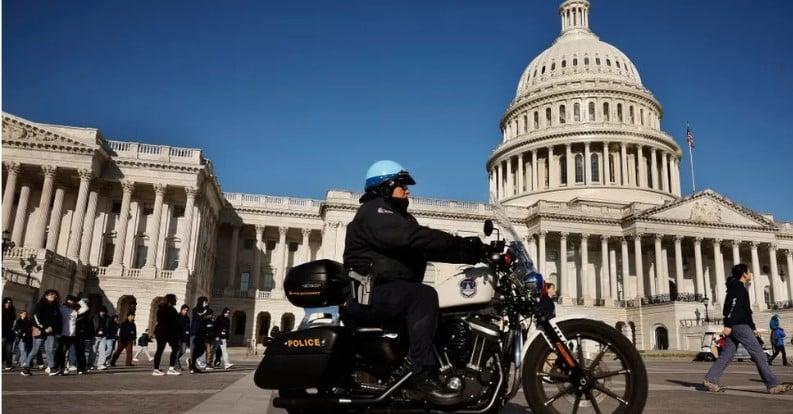 Police are visible at Washington D.C. Capitol Hill on Monday.
US Capitol Police who protect lawmakers on Capitol Hill in Washington have deployed bike rack fencing around the Capitol complex and will beef up staff.
The Capitol Police plan to issue an emergency declaration on Tuesday. Civil disturbance officers will be on standby and a congressional source said there was no specific threat, and that order was proactive.
LAPD and federal officers were preparing for the pro-Trump protest on Tuesday outside a federal building.
US intelligence officials have detected an uptick in online threats against legal and government officials since Trump wrote online on Saturday that he's expected to be arrested on Tuesday.
Most of the threats were to Manhattan District Attorney Alvin Bragg and the man widely expected to file charges against Trump.
On Saturday, the same day Trump posted that his supporters should protest.
"We do not tolerate attempts to intimidate our officer or threaten the rule of law in New York."
Mr. Bragg's case centered on a $130,000 payment from Mr. Trump's former lawyer, Michael Cohen to p*** star Stormy Daniels before the 2016 presidential election to keep her quiet about the affair with Trump.
The records for the payment describe it as "legal fees" and prosecutors could argue these amounts to Trump's business records. He denies that he ever had an affair with Ms. Daniels.
On Monday, the grand jury heard from a Trump ally named Robert Costello and he was to undermine the prosecution's star witness, Cohen.
Costello told reporters after emerging from two hours of testimony. "I told the grand jury that this guy [Cohen] couldn't tell the truth if you put a gun to his head."
Cohen was jailed in 2018 for offenses including violating campaign fiancé laws and didn't declare the payment to Ms. Daniels.
"In the history of our Country, there cannot have been a more damaged or less credible witness at trial than fully disbarred lawyer and felon, Michael Cohen."
The jury's expected to hear again from one more witness on Wednesday before the charges are filed.