Islanders outplayed by Hurricanes in Game 1 loss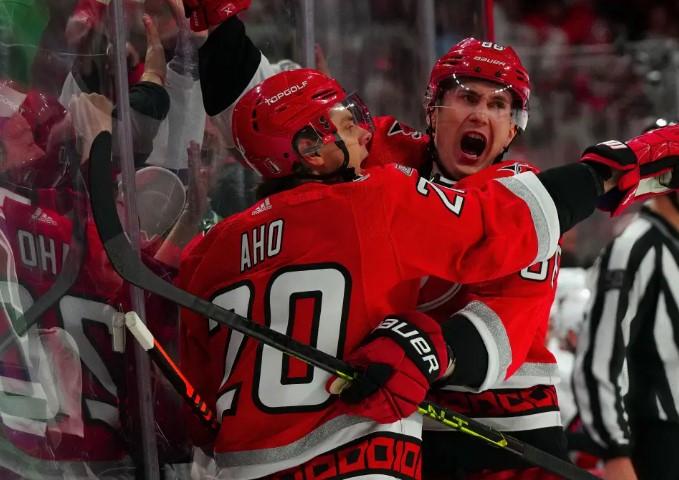 If the Islanders can't break through their own zone, they're not winning. Breakouts and special teams, which were the enduring lessons in a tight 2-1 Games 1 loss to Carolina on Monday night at PNC Arena which the 'Canes controlled the game and struck twice at five-on-four and held the islanders to four shots in eight minutes of power play time.
"We played some good hockey, it's a 2-1 hockey game, playoff style," Islanders captain Anders Lee said. "Just one of those nights, we needed one from the power play."
The Islanders got their fourth and final power-play chance with hair under five minutes to go in the game and a chance to tie. There was a push at six-on-five, which turned out to be one of the operative moments during the loss. The league's penalty kill was forcing the islanders out of the zone over and over and the Hurricanes' speed advantage into a suffocating forecheck all over the ice.
"We gotta move a little quicker." coach Lane Lambert mentioned, "I talk about it all the time, they don't give you a lot of time and space. That's their M.O. They're up on you, so you gotta move quickly in transition."
Two islanders made their playoff debut, Sebastian Aho and Samuel Bolduc were overwhelmed at times and Scott Mayfield, Noah Dobson, and Adam Pelech all turned the pack over in ways veterans cannot during this time.
"I think we just gotta find a better way to be a little more clean, execute some passes," Dobson said. "It's gonna be like that all series. We're just gonna have to find a way to grind through it."
Carolina's first strike came 3:47 into the series, and five seconds after the playoff's debutant Hudson Fasching was sent off for tripping Jaccob Slavin. Aho wired a one-timer circle off a faceoff and the islanders, who didn't get to their game enough to open 20 minutes and suddenly stared at a deficit. Stefan Noesen made 2-0 similarly early in the second period, tipping Brent Burns' shot in after Ryan Pulock's slashing penalty. Pulock made a quick error by tricking a shot past Antti Raanta, who slow-motion fanned in an attempt to let the Islanders have a goal.
The Islanders struggled to get Carolina's net or to connect on four power-play chances of their own.
We just gotta stick with it and get one next game.

Noah Dobson