TV Shows to Watch Over the Summer
1
Outer Banks is an American action-adventure mystery teen drama streaming television series created by Josh Pate, Jonas Pate, and Shannon Burke that premiered on Netflix on April 15, 2020. The series is set in a community in the Outer Banks of North Carolina and follows the conflict between two groups of teenagers in search of a lost treasure.
2
School Spirits is an American supernatural teen drama television series created by Megan Trinrud and Nate Trinrud that premiered on Paramount+ on March 9, 2023. The series, adapted from the forthcoming graphic novel by the Trinruds and Maria Nguyen, stars Peyton List, Kristian Flores, Milo Manheim, and Spencer Macphers
Maddie is a teen girl stuck in the afterlife investigating her mysterious disappearance; she goes on a crime-solving journey as she adjusts to high school in the afterlife, However, the closer she gets to the truth, the more secrets and lies she discovers.
3
The Fosters is an American family drama television series created by Peter Paige and Bradley Bredeweg. It premiered in the United States on June 3, 2013, on the ABC Family (later Freeform) television network and concluded on June 6, 2018. It followed the lives of the Adams-Foster family led by a lesbian couple, Stef Foster, a police officer, and Lena Adams, a school vice principal, who raise one biological son and four adopted teenagers in San Diego, California.
The first season received generally favorable reviews and particular acclaim for its portrayal of LGBT themes. It also earned two GLAAD Media Awards and one Teen Choice Award.
On January 3, 2018, Freeform announced that The Fosters would end after five seasons. It concluded with a three-episode finale, which also acted as an introduction to Good Trouble, the spin-off series starring Maia Mitchell and Cierra Ramirez.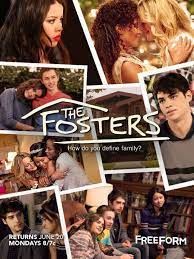 4
All American is an American sports drama television series, created by April Blair that premiered on The CW on October 10, 2018. The series is inspired by the life of professional American football player Spencer Paysinger, with Daniel Ezra in the lead role. In March 2022, the series was renewed for a fifth season which premiered on October 10, 2022. In January 2023, the series was renewed for a sixth season
When a rising high school American football player from South L.A. is recruited to play for Beverly Hills High, the wins, losses, and struggles of two families from vastly different worlds—Crenshaw and Beverly Hills—begin to collide. Inspired by the life of pro football player Spencer Paysinger.
5
The Summer I Turned Pretty is an American coming-of-age romantic drama television series created by author Jenny Han for Amazon Prime Video and is based on her novel trilogy of the same name. The series premiered on June 17, 2022, with the first season consisting of seven episodes. Ahead of the series premiere, it was renewed for a second season which is set to premiere in 2023.
On an annual summer vacation to their family friends' beach house, Belly reunites with her brother, and friends Jeremiah and Conrad, and she finds herself caught in a love triangle.