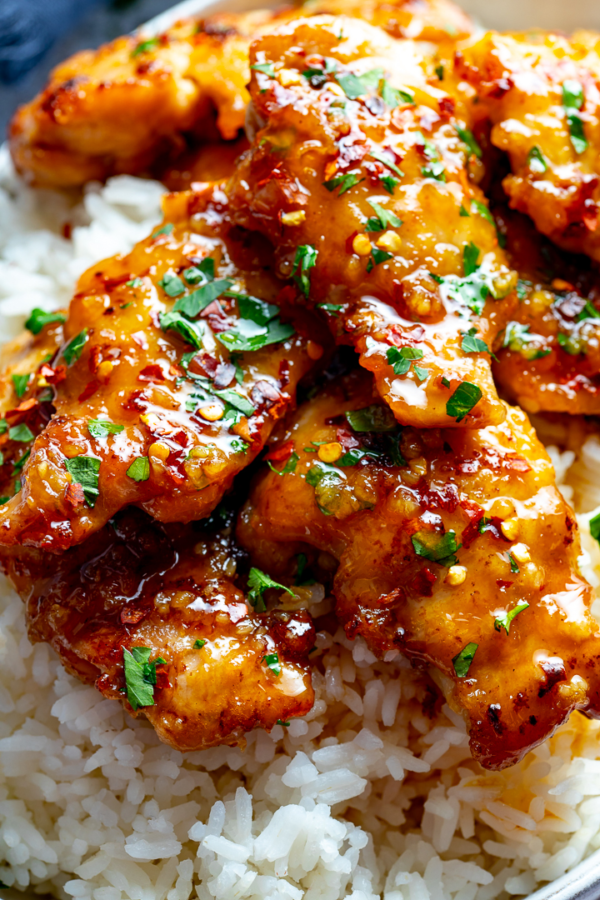 Honey Garlic Chicken
This is a quick, simple, and delicious recipe to put together. Ready in 20 minutes.
Recipe:
8 chicken thighs (skinless and boneless)
▢2 tbsp corn flour (cornstarch)
▢½ tsp salt
▢½ tsp pepper
▢2 tbsp vegetable oil
▢1 tbsp unsalted butter
▢4 cloves minced garlic
▢⅓ cup (110g) honey
▢⅓ cup (80ml) chicken stock
▢1 tbsp rice vinegar
▢1 tbsp light soy sauce
To Serve:
▢1 tbsp finely chopped fresh parsley
▢½ tsp chili flakes
▢boiled rice
Steps:
Cover the chicken in a dry mixture containing: corn flour (cornstarch), salt, and pepper. Then fry in oil in a hot pan until golden.
Add butter and minced garlic into the pan, then let simmer until butter melts.
Add honey, stock, rice vinegar, and light soy sauce into a bowl and combine. After combined add this mixture to the pan with the butter and garlic. Let this simmer; then reduce the heat when this combination becomes thick.
Begin glazing the chicken with the mixture in the pan till sticky. Garnish the chicken with fresh parsley (optional).
Serve over steamed rice (optional).