Top 10 Halloweens Movies-OPINION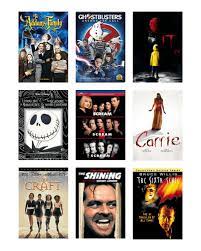 1). The Exorcist – 1973 – A mother thinks her daughter is acting odd so she seeks medical assistances but the mother is fearful that her daughter is being possessed by the devil.
2). The Addams Family – 1991 – A man shows up at the front door pretending to me Fester but Morticia knows something's wrong/deferent about him.
3). Edward Scissorhands – 1990 – A scientist builds an animated human being but before finishing dies leaving Edward with scissor hands making him an out cast.
4). The Conjuring – 2013 – Based on true evets of the real Ed and Lorain Lauran.
5). Casper The Friendly Ghost – 1995 – A father and daughter move in to a haunted house to help the ghosts find there unfinished briskness.
6). A Quiet Place: part 2 – 2020 – A family fighting for survival in the silent world.
7). Us – 2019 – A family shows up at the end of there drive was looking identically like them and begins to hunt them.
8). The Corpse Bride – 2005 – Victor gets pulled to the land of the dead and meets Emily who was murdered after eloping with her love and now she wants to marry Victor.
9). IT – 2017 – local kid's disappearing one by one every 27 years because of a shape shifting clown.
10). Ghostbusters – 1984 – 4 friends hunt ghosts to protect the city.