Cross Country Meet October 12, 2013
Cross Country had a meet Saturday October 12, 2013 at El Dorado, Kansas. They had 5 events with the first race at 9:45am.
The first event ran was Boys C-Team.
– Kyle Swanson in 65th place, and Adam Deiter in 68th place.
The second event ran was 4K Girls JV.
– Lynh Tran in 79th place, and Haylee Cline-Rose in 129th place.
The third event ran was 5K Boys JV.
– Baliee Zink in 68th place, Jose Mendez in 92nd place, Michael Stafford in 98th place, Joseph Jacobsen in 101st place, Piton Wilfred in 102nd place, and Nathan Corn in 117th place. Overall team score of 16/16.
The fourth event ran was 4K Girls Varsity.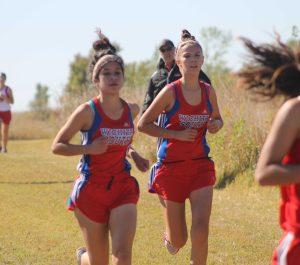 – Hannah Matsui in 44th place, Bianka Escoto 103rd place, and Ashlee Gay-Forman 105th place.
The fifth event ran was 5K Boys Varsity.
– Tony Matsui in 22nd place, Ismael Ramirez in 39th place, Toby VanCleave in 83rd place, Ryan Loesing in 96th place, and Elijah Epps in 103rd place. Tony Matsui with the time of 16:46.06 was rewarded a medal for being in the top 25 finishers.
Their overall team score was 14 out of 17.