Dont know what to cook for Thanksgiving dinner?!?!
A Simply Perfect Roast Turkey
**Makes 24 servings
INGREDIENTS
– 1 whole turkey
– 1/2 cup unsalted butter, softened
– salt and fresh ground black pepper
– 1 1/2 quarts turkey stock
– 8 cups prepared stuffing
DIRECTIONS
Preheat oven to 325 degrees F (165 degrees C). Place rack in the lowest position of the oven.
Remove the turkey neck and giblets, rinse the turkey, and pat dry with paper towels. Place the turkey, breast side up, on a rack in the roasting pan. Loosely fill the body cavity with stuffing. Rub the skin with the softened butter, and season with salt and pepper. Position an aluminum foil tent over the turkey.
Place turkey in the oven, and pour 2 cups turkey stock into the bottom of the roasting pan. Baste all over every 30 minutes with the juices on the bottom of the pan. Whenever the drippings evaporate, add stock to moisten them, about 1 to 2 cups at a time. Remove aluminum foil after 2 1/2 hours. Roast until a meat thermometer inserted in the meaty part of the thigh reads 180 degrees F (80 degrees C), about 4 hours.
Transfer the turkey to a large serving platter, and let it stand for at least 20 to 30 minutes before carving.
———————————————————————————————————–
Chestnut Stuffing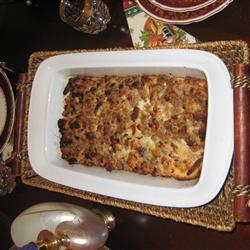 **16 servings
INGREDIENTS
– 2 cups chesternuts
– 1 1/2 cups margarine
– 1/2 cups chopped onion
– 1 teaspoon salt
– 1/4 teaspoon pepper
– 2 teaspoon poultry seasoning
– 2 loaves day-old bread, crumbed
– 3 eggs
– 1/4 cup milk
DIRECTIONS
With a sharp knife, cut slits in the surface of the chestnuts. Place chestnuts in a medium saucepan with enough water to cover, and bring to a boil. Cook 25 minutes, or until tender. Drain, peel, and chop.
Preheat oven to 350 degrees F (175 degrees C).
Melt margarine in a medium saucepan over medium heat. Stir in chestnuts, onion, salt, pepper, and poultry seasoning, and cook until onions are tender, about 3 minutes. Transfer to a medium baking dish, and mix with the cubed bread.
In a small bowl, beat together eggs and milk, and drizzle over the cubed bread mixture.
Bake 30 to 45 minutes in the preheated oven, until surface is crisp and lightly browned.
———————————————————————————————————–
The Best Mashed Potatoes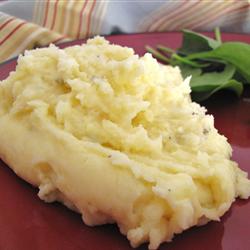 **12 servings
INGREDIENTS
– 5 pounds yukon gold potatoes
-1/2 cups butter
-2 cups parmesan cheese
– 1 cup chopped fresh chives
– 1 1/2 cups cream cheese
– 1/2 medium head garlic, peeled and minced
– 1 pinch salt and pepper
DIRECTIONS
Bring a pot of salted water to a boil. Add potatoes; cook until tender but still firm. Drain and return to stove over low heat to dry for 1 to 2 minutes.
Add butter, Parmesan cheese, chives, cream cheese, garlic, salt, and pepper. Use a potato masher to mash until smooth, and serve.
———————————————————————————————————–
Sweet Potato Casserole II
**16 servings
INGREDIENTS
– 4 1/2 cups cooked and mashed sweet potatoes
– 1/2 cup butter, melted
– 1/3 cup milk
– 1 cup white sugar
– 1/2 teaspoon vanilla extract
– 2 eegs, beaten
– 1 cup light brown sugar
– 1/2 cup all purpose flour
– 1/3 cup butter- 1 cup chopped pecans
DIRECTIONS
Preheat oven to 350 degrees F (175 degrees C). Grease a 9×13 inch baking dish.
In a large bowl, mix together mashed sweet potatoes, 1/2 cup butter, milk, sugar, vanilla extract, and eggs. Spread sweet potato mixture into the prepared baking dish. In a small bowl, mix together brown sugar and flour. Cut in 1/3 cup butter until mixture is crumbly, then stir in pecans. Sprinkle pecan mixture over the sweet potatoes.
Bake for 25 minutes in the preheated oven, or until golden brown.