A Little-Bit about our Kansas Humane Society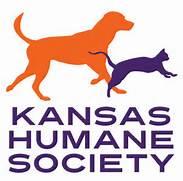 – Kansas Humane Society:
3313 N. Hillside
Wichita, KS 67219
(316) 524-9196
Mon – Sat: 11am-6:30pm
Sun: 1pm – 5pm
-The History:

-For over 126 years the Kansas Humane Society has been helping the community by picking up, giving shelter, giving hope and care – till a new home is found. The Kansas Humane Society supports our lost and abandoned animals here in Wichita.
–The organization all started in the year 1888.
–In 1921 Mrs. David Walker, the first leader of the Kansas Humane Society, decided to purchase the first shelter. A wooden house for only $12!
–In 1938 the expansion started.
–Doubling the size and adding central air and heat helps keep the people and animals involved comfortable. Along with dedicated areas for each animal, all in 1970.
–Now everyone works together to make the best and do the best for the animals and with adopters.
-Services: 
-Spray and neuter all animails plus the surgrical procedure is also open to the public.
-The Humane Society also very happily offers dog training. They have classes that you are able to have your dog participate in.
-Behavior help
-Euthanasia
-Adoption:
Dog: $150
Cat: Free
Bird: $20
Bunny: $20
-You, yourself, can join in on the supporting by donating to the Kansas Humane Society, adopting, or if you are not able to do either, you can promote and try to get the people that can give, to give! Knowing that it is going to a good cause is a big plus. The Humane Society is very caring so they are trying to care for as many animals that are in need as possible, but the cost is a lot! Help/ donations are always very well needed and very very well appreciated.