Bills vs Bengals Game has been Cancelled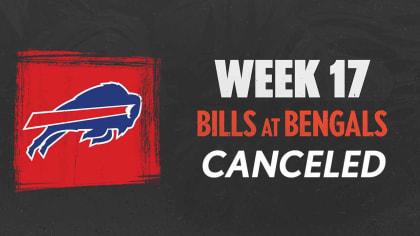 Week 17 between the Bengals and Bills has been cancelled and won't continue. It is due to a member of the Bills for being in the hospital, and it has been hard for everyone.
"This has been a very difficult week," NFL Roger Goodell said in a statement Thursday.
In announcing the decision to cancel the game, the NFL cities 3 key factors:
The outcome would have no bearing on which teams qualified for the postseason,
playing the game would have altered the playoff schedule for the remaining teams,
and not playing the game would allow all clubs to know the post season possibilities before the start of Week 18.
The Bengals were leading 7-3. NFL officials have maintained that there are no plans for the game to continue on Monday.
Buffalo (12-3) has entered Week 17 with being tied with the Chiefs now (13-3) for the best record in the AFC but it's being held by tiebreaker. Cincinnati (11-4) had trailed both teams by one game, but it would end up having a three-way tiebreaker to win over the Bills. The Bengals beat the Chiefs in Week 13 in a rematch of last year's AFC Championship Game.
Due to the game being cancelled, league owners will be voting on Friday with 24 of 32 needed to approve on scenarios approved by the competition committee Thursday that involve a site for the AFC Championship Game.
Week 18 outcome;
If the Bills and Chiefs win or tie, a Bills-Chiefs championship game are going to be a neutral site.