Tom Brady Officially Announces His Retirement
Once again, Tom Brady is hanging up the cleats. However, this time around it does seem as if it is for real this time. Brady proclaimed that he would be leaving the game for good after 23 seasons on Wednesday morning, a few weeks following Tampa Bay's playoff loss to the Dallas Cowboys.
This is not the first time Brady has walked away from the game either. Exactly one year ago Brady initially announced his retirement but then called off that move just forty days later, saying that "my place is still on the field and not in the stands".
Now if the announcement this time around, is for real, he will walk away considered the G.O.A.T of the NFL and all around the sports world.
Here is some of his career achievements:
7x Super Bowl Champion
5x Super Bowl MVP
3x NFL MVP
2x NFL Offensive Player of the Year
3x First-team All-Pro
15x Pro Bowl
5x NFL Passing Touchdowns Leader
4x NFL Passing Yards Leader
Now the NFL records Brady holds:
Most career quarterback wins: 251
Most career passing attempts 12,050
Most career passing completions: 7,753
Most career passing touchdowns: 649
Most career passing yards: 89,214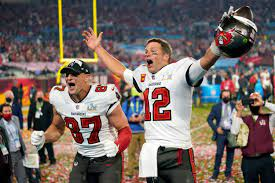 ---
Sources used:
https://www.cbssports.com/nfl/news/sean-payton-trade-grades-broncos-pony-up-for-super-bowl-winning-head-coach-saints-land-two-valuable-picks/